SHOW LOW — Not many small businesses can say they've been operating for 30 years in the White Mountains. Farmer's Insurance Agent Daryl Seymore has the experience, the tenure and the tenacity to say, with pride, that he's accomplished what it means to run a small business that serves a small community.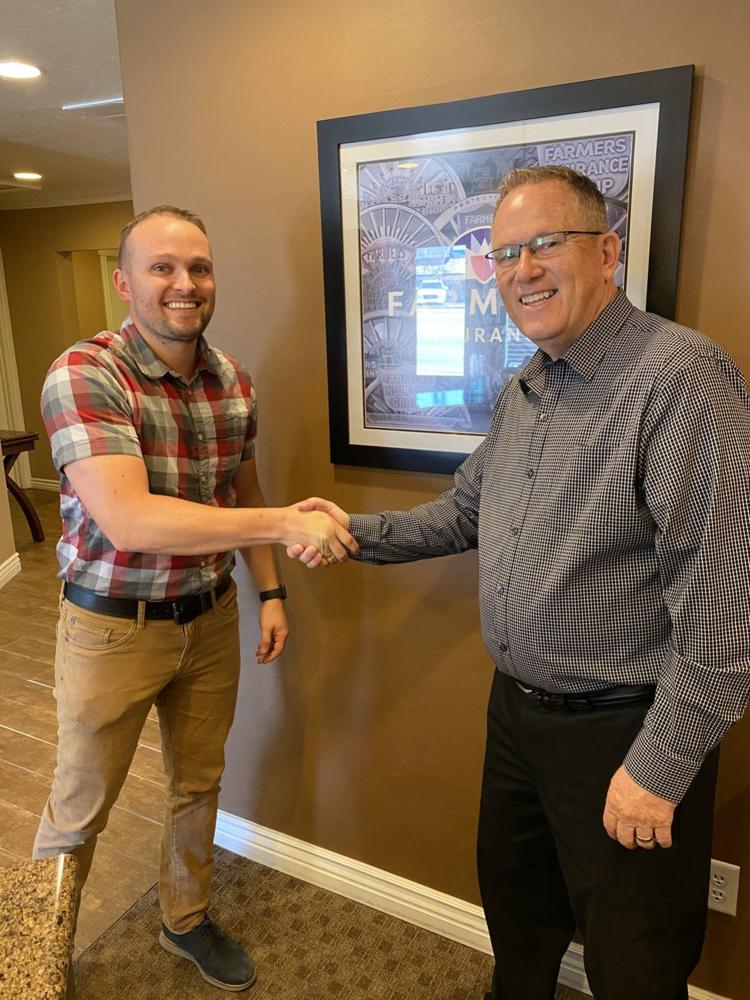 But, he isn't the prideful, boastful sort so others often benefit from his humility and his knowledge – and even his past mistakes.
Seymore took on the Farmer's Insurance Group agency located at the Deuce of Clubs/US60 and 9th Street in downtown Show Low in 1991.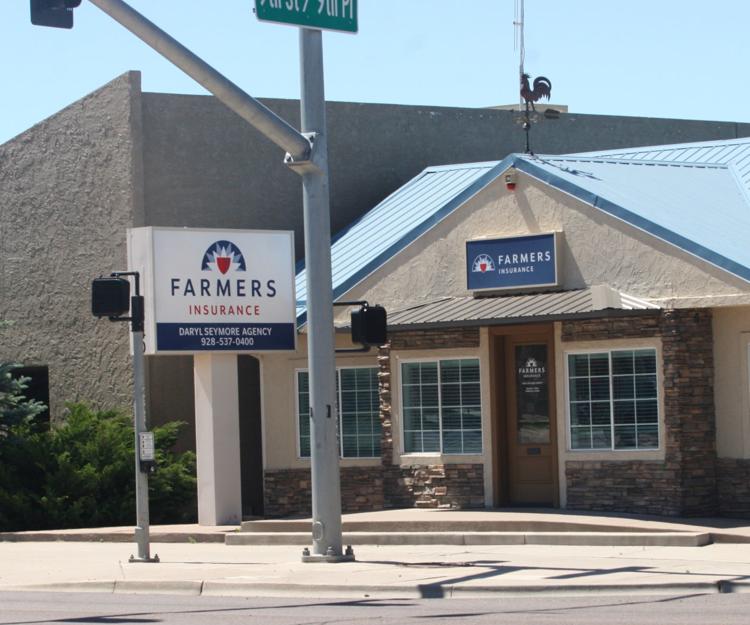 "I knew nothing about insurance; I started from scratch," assures Seymore. "My father-in-law, Roy Abbot, started this agency office in 1971 and had it for about 20 years.
With several generations of White Mountain family lineage behind him, Seymore left the family's Ready Mix business in Heber-Overgaard and moved to Show Low. "This agency had about 1,500 policies through the years that I acquired or purchased- from Roy and Pat Abbot," explains Seymore.
Although new to the insurance industry, Seymore says that he knew "it was always about customer service – making people happy. Just doing the right things for the customer."
The first office location was 308 N. White Mountain Road, across from McDonald's in Show Low. After some growth, Seymore moved to a larger office in the Cellular One complex on White Mountain Road. He actually purchased the property and, years later, sold it to Show Low resident, Rick Fernau.
"I've known Daryl for a long time at least since the early 80's," says Rick Fernau. When his wife, Kay, died of cancer it was a battle – a big drain on him. He's been here a long time and he's seen a lot of ups and downs but he's always impressed me," adds Fernau who was Mayor of Show Low when Seymore was Vice Mayor.
"You talk about a thinker – that's Daryl," says Fernau. "When my second term was up I approached him about running for Mayor because I wanted to support someone I really liked and knew could do the job."
"It took Daryl six months to come back with an answer about running for Mayor. He talked with his wife, Jane and his family; he didn't take the decision lightly and I can tell you from personal experience — after being mayor for eight years, there is no financial gain in the position."
Over the years with Farmer's Insurance Group, rarely did he market. It was always a referral-based business he said. "Val Poglajen was with me at the agency for a long time," says Seymore. "She was the first hire I had on my own and she stayed with me for years; she was a great friend and employee."
Seymore also owned Vons Cabinets which was stationed in the back of the building. The insurance office was up front he says. "We grew some but stayed in that building until about 2,000."
Eventually Seymore split the insurance and cabinet business, moving each into its own building. In 2011, Seymore and his now wife, Jane, bought the building on 9th Street and the Deuce of Clubs.
Seymore's son came to Show Low and ran the agency for about a year and then started an agency of his own. "Both of us were in the same office for a while, until he went to medical school for two years. Then he came back and started working for our agency in 2011," explains Seymore. His son later worked in the Whiteriver agency office before moving to Utah.
Through the years, Seymore's customer base has grown and included a good number of customers from Whiteriver in addition to those from Show Low, Pinetop-Lakeside and Snowflake-Taylor.
"When people would move – even if they left and went to the valley – they didn't want to change agencies," says Seymore. "We just do the right thing for customers and Farmer's makes that easy. I have always been loyal to Farmer's because of the way they pay their claims."
There is very little difference in price and products in the insurance business said Seymore. "But, when people buy insurance and have a loss, it's all about how their company treats them. Are they getting the most from their policy? Is your agency there to nickel and dime you or pay the loss?"
In 1994, Seymore's agency became a member of the Farmer's Insurance President's Council. The award is based on productivity and is a lifetime appointment, with only one percent of agents attaining this. It's also rarely awarded to agents serving rural areas.
"... all of the area Farmers agents appreciated Daryl's knowledge and input throughout the years," says long-time colleague and Farmer's Insurance Agent Lon Hoffman of Pinetop. "Long time agents such as Eric Broadbent in Saint Johns and Dan Stratton of Snowflake (before me), were particularly good friends with Daryl over the years. Daryl was always someone we could call for advice, and he was the unofficial lead agent on the mountain."
Seymore's agency has grown to about 4,200 policies and received several other awards during his tenure including the Toppers Club Award for 17 years.
He has also served on the Show Low City Council for 16 years, eight of which have been as Mayor. He also coached 7th grade and freshman football in Show Low and, through the agency donation, completely refurbished the football field sod, sprinkler system and scoreboards.
Seymore has done fundraising for high school graduations, youth sports and the March of Dimes.
Now, after 30 years in the industry, Seymore is ready to pass the torch onto someone who will live up to his expectations and someone who will serve the community with integrity and loyalty. That person is Matthew Smith.
"I started putting feelers out for people who might be interested in this agency," says Seymore. "I received written offers but for one reason or another it didn't work out. And, Farmer's Insurance Group had to approve who would be taking over the agency."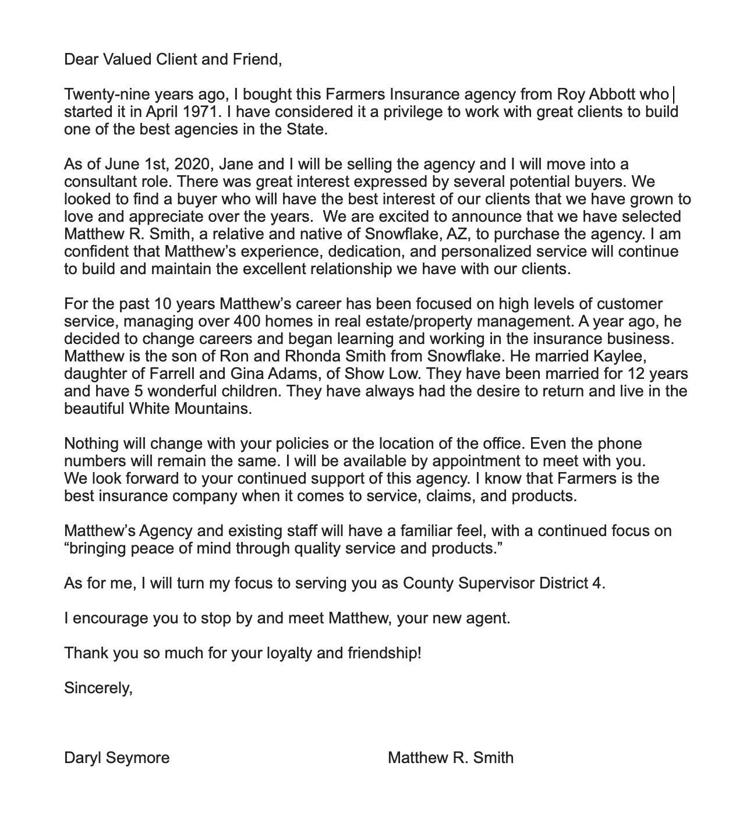 Matthew Smith, a Snowflake native, is the person Seymore selected to take over the agency. Born and raised in Snowflake, Smith's wife, Kaylee Adams, also grew up in the White Mountains and has a generational history here as well.
"I was in real estate and property management for 10 years in the valley," says Smith, "but I always wanted to be back up on the mountain."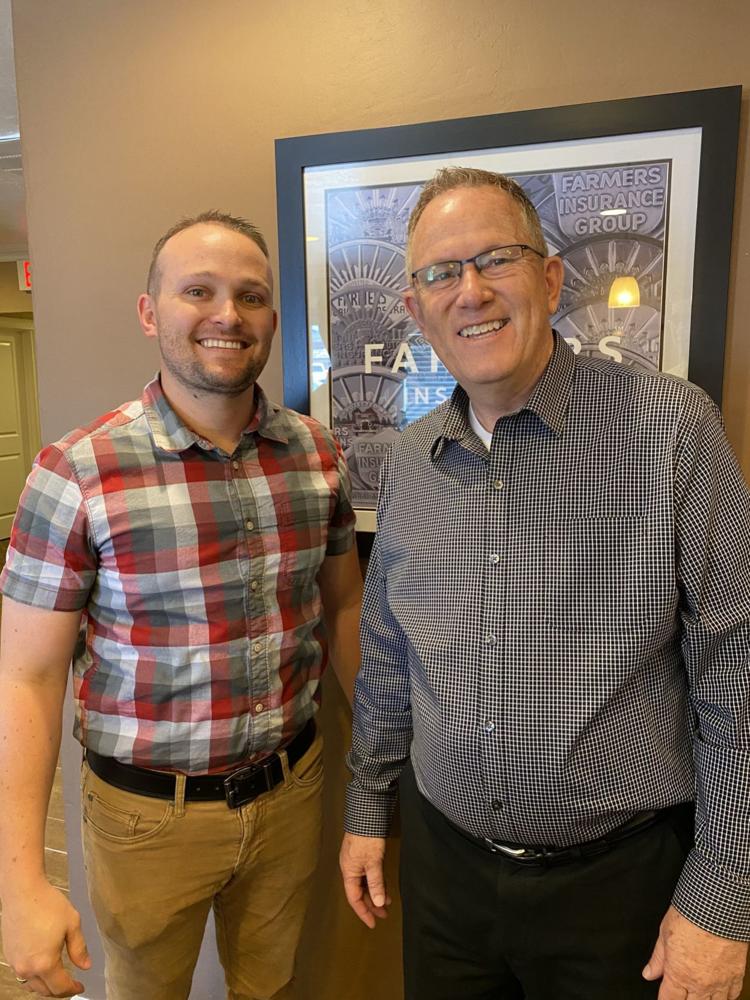 He had an opportunity to get into insurance with a different agency than Farmer's in 2019. After becoming licensed, he traveled quite a bit until, "On a whim, I called Daryl up and asked him about Farmer's Insurance. It was right as COVID-19 lockdowns were hitting but I had heard good things about Farmer's and knew Daryl's brother, Danny. And, Daryl and my father-in-law are first cousins so I just called him up and started asking him about his agency."
"We don't really believe in coincidences," explains Smith. "We had a lot of things to line up for this to work. One thing led to another – we struck a deal and here we are!"
"I did some due diligence researching the agency and even the people that don't like Farmer's couldn't deny that Farmer's was fair – especially when it comes to the claims process. I didn't want to attach my name to something that wasn't going to have integrity," he adds. "A big selling factor for me is knowing that Farmer's operates the way they do."
"I don't want to take away or change anything that has brought so much success to the agency," says Smith. "We will continue to pride ourselves in customer service and bringing peace of mind to the client. They know if there is a claim they will be taken care of; they have an advocate."
Seymore clarified that he's not retiring but changing focus to his appointment as the Dist. IV Navajo County Board of Supervisors. He will be on the ballot in August.
"The importance of becoming a county supervisor and the time commitment that it requires is essential," says Seymore. "I really want to give 100% to that position if I am elected this fall to go forward."
"I want people to have confidence that Matt will take care of them," says Seymore. "Jane, myself and the staff feel that Matt will best service our customers and the community. The tradition isn't going to stop after I leave."