WINSLOW — Approximately 29 BNSF locomotive cars derailed the morning of July 6 east of Winslow near West Hibbard Road. The train was traveling westbound about 68 miles east of Flagstaff.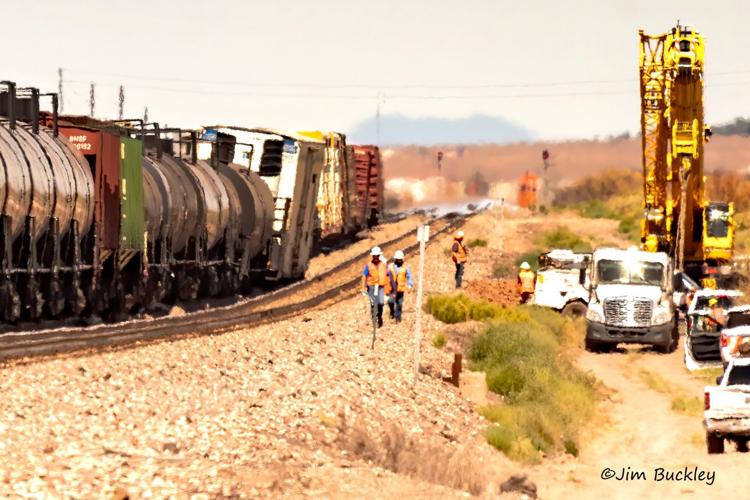 Joseph City Volunteer Fire Department responded to the derailment site as well as BNSF field personnel. No injuries were reported and none of the cars contained hazmat materials, according to Ben Wilemon, External Corporate Communications. 
A total of 29 cars derailed which originally obstructed two main tracks. "Our crews reopened one main track that evening at 5:00 p.m., and they reopened the second main track today at 12:05 p.m.," confirmed Wilemon. 
The cause of the derailment is under investigation.
A Winslow resident named Jim Buckley heard about the incident, drove to the area and took a few pictures from a secure area outside the site.
"Due to the heat waves, I was a good distance from the scene, (probably 1/8 mile or so), using a long telephoto lens, so I wasn't able to talk to any of the workers," said Buckley. 
This particular stretch of track was anticipated to have 61 trains running through the location in the 24 hours following the incident. As a result, train travel from Needles, California and Belen, New Mexico was suspended.
The accident did not interfere or delay vehicle traffic on Interstate 40, according to the Arizona Department of Transportation's website and AZ511 Alert System.
BNSF Railway Company is the largest freight railroad network in North America. (BNSF stands for Burlington North Santa Fe.)
BNSF is "the product of nearly 400 different railroad lines that merged or were acquired over the course of 170 years," according to the company's website.
Headquartered in Ft. Worth, Texas, there are 32,500 miles of track in 28 states which run more than 8,000 locomotives.