WHITERIVER – Under the United States Department of Agriculture's (USDA) Families First Coronavirus Response Act, food distribution made its way to the White Mountain Apache Reservation last week with an extra helping of politics. A letter from President Donald Trump, included in the boxes, created quite a stir among residents who had concerns in accepting the food boxes after learning of the letter.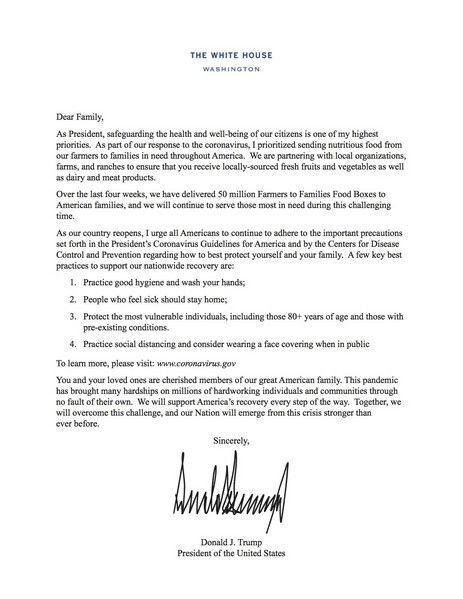 Issues over the Trump letter are not new. On Oct. 1, The Washington Post headlined in their business section, "Food banks are removing the signed letter Trump wanted to include in every food-aid box. The third round of Farmers to Families Food Boxes will include a one-page letter from Trump in English and Spanish."
Politico, an American political journalism company that covers politics and policy in the U.S. and internationally, stated in an article also on Oct. 1, "The Agriculture Department last week began mandating that millions of boxes of surplus food for needy families include a letter from President Donald Trump claiming credit for the program."
The Chicago Tribune reported in a Sept. 30 article titled "Political propaganda" or "essential public health messages"? Government-sponsored food boxes include a letter from Trump, and some Chicago food pantries are removing it, that "It does not mention the Nov. 3 election, but some local food pantries say it's inappropriate and plan to remove the letter before distributing the boxes to families."
A number of non-profit food banks across the country have reported their fear that insertion of the letter could place them in jeopardy of losing their non-profit status. Under the Internal Revenue Code, 501©(3) organizations are prohibited from either directly or indirectly participating in political issues.
In April the USDA partnered with national, regional and local distributors to purchase $4.5 billion in fresh produce, dairy and meat products from American producers and distribute them to food banks, community and faith based organization and non-profits who serve those in need. The distribution is now in its fourth round of distribution.
Addressing the Trump letter in her weekly radio show on Oct. 31, "Saturday Morning with Chairwoman Gwendena Lee-Gatewood," Lee-Gatewood said that Shamrock had sent an invitation to her office inviting the Tribe to participate in food box distribution, a USDA program whose goal is to try to stop hunger during the pandemic with so many out of work and dealing with other pandemic-related issues.
Lee-Gatewood said that 30 pound food boxes, which included such items as a bag of potatoes, chicken, apples, yogurt, milk and cheese and different meat products, were distributed last week to the Tribe. Distribution began on Monday, Oct. 26, at Seven Mile and later to Whiteriver, Hon-Dah, McNary, Cedar Creek and Cibecue, even during the snow. Whiteriver was scheduled also for Oct. 31 but Shamrock notified Lee-Gatewood they had to reconfigure their schedule and would resume distribution on Nov. 2. She also said there a new distribution would begin on Nov. 9 and with different food selections in the boxes.
"Some people were a little, how would I say, a little unsure about accepting the food box, but we have to remember that this is just meant to help you get over this time period. There's people that don't have food and there's a lot of good stuff in there that can help you get through til next pay day, that could help you," said Lee-Gatewood.
"I do know there was a letter from President Trump in there and all that letter stated was we are in a time of COVID-19, stay safe, watch out for your families. Some people are out of work. It was more of an encouragement letter because federal food programs come from the government. When I asked Shamrock about it they said that's how it's always been done when they do these mass food distributions."
Gatewood said the letter is standard protocol. During the show she received a message from Wessa Thomas, whom she referred to as Clementine, who wrote, "Shout out to Shamrock and Chairwoman's office and volunteers. Awesome job. Love and prayers."
Lee-Gatewood told listeners that Clementine has done those programs herself in the past and said it is just standard protocol.
"This food – there's people out there that have trouble getting food and this food box comes at a time when we have families that need extra help so an attitude of gratitude for the food is something that is needed right now," said Lee-Gatewood. "There's too much going on to be upset about a letter.
"Just think about food that has arrived and can help feed your family and help one another. Think of the good things that are happening with the food deliveries."
The U.S. Department of Agriculture announced on Oct. 23 that it has authorized $500 million for a fourth round of purchases for the the USDA Farmers to Families Food Box Program for deliveries of food boxes from Nov. 1 through Dec. 31, 2020. The program was to end on Oct. 31. The announcement did not mention whether or not the Trump letter would be included in the fourth round.