SHOW LOW — The 19th annual "Honoring Our Heroes" and Patriot Day 9/11 Memorial will be held on Friday, September 11, 2020 at 4 p.m. at the Show Low Elks Lodge bingo hall located at 805 E. Whipple Road in Show Low.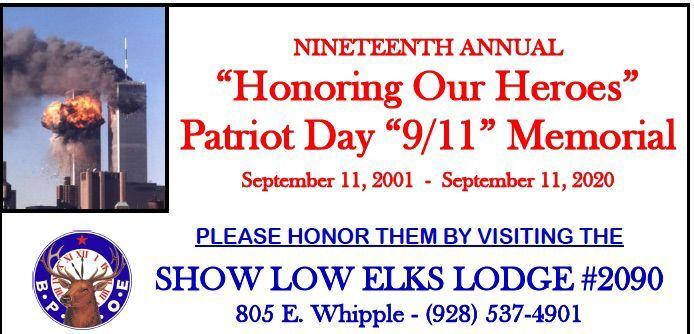 This is a free, special presentation with two parts, both open to the public. 
The first part runs Wednesday, Sept. 9 through Friday, Sept. 11 from 1 p.m. to 8 p.m. at the Show Low Elks Lodge. The public is invited to come see the unique displays during that time. Walk through at your leisure to view the 9/11 memorabilia.
The second portion is a special presentation on Friday, Sept. 11 at 4 p.m., also in the Show Low Elks Lodge.  Please note that masks are required for entrance.
The displays include memorial boards that list each and every name of the victims at the World Trade Center, The Pentagon, Shanksvilled, Pennsylvania and Flight 93.  There were 3,355 men, women and children gave "the ultimate sacrifice" of their lives. 
Newspaper articles containing the front page headlines from September 11, 2001 will be available for public viewing. There will also be a powerpoint presentation depicting over 200 pictures from the devastation of that fateful day in history. 
For more information, contact Jim and Connie Zawacki at 575-288-8148 or 575-654-7731, respectively. You can also email them at czawacki2014@gmail.com.