WHITE MOUNTAINS – Years ago, Roger Leslie who was the general manager of Hon-Dah Casino and Conference Center said, "Community means come in unity." That statement could not be truer today. As evidenced many times on the Mountain during the largest wildfires in the state, the death of Show Low's Police Officer Darrin Reed and now White Mountain Apache Police Officer David Kellywood, our Mountain is one. There are no signs of boundaries between towns or cities or the White Mountain Apache Reservation.
David Kellywood and his wife made an impression on all those that knew them, but now, even those who never knew them are reaching out to thank him for his service by honoring the family he left behind.
Though the Kellywoods have only lived in their present home in the Pinetop-Lakeside area for four or five months, their neighbors had already begun to get to know them and claim them as their own. When they learned of David Kellywood's death, they immediately reached out to each other trying to find a way they could ease the heartache of Kamellia, Gabriel and David, Jr.
With their adrenaline pumping, they worked to get their neighborhood appropriately staged before the new widow and her children came back to their home; they made a plan to wrap every pine tree they could in blue. Stripping every Walmart, Dollar Tree and Family Dollar between Pinetop and Taylor of their blue plastic tablecloths, their work began.
The tablecloths were 108 inches in length and they cut them in four pieces and began wrapping the huge pines and then making bows and taping them on the trees. They wrapped some of the strips around the fencing. With the trees being so tall, they reached out to Navopache Electric Cooperative to help them get the taller ones.
Having completed their wrap and 168 bows on Tuesday, they headed out to White Mountain Boulevard to show their respect. As they headed out, they decided to blue that road as well. As the procession passed, the emotions of the day caused their tears to flow.
The spokesperson for the group, who wishes to remain anonymous to protect the location of their neighborhood, said, "Working together today with the neighbors to help someone else gave my heart so much joy. He was such a kind and gentle man. We are just crushed. We wanted Kamellia and her sons to see nothing but blue when they got home."
The Kellywood's neighbors are not the only ones who have and continue to reach out to them.
The Navajo County Sheriff's Department, on behalf of the White Mountain Apache Tribe, put out the press release on Feb. 17 of his tragic death. Officer Kellywood had previously worked as a detention officer for Navajo County so the loss to them was personal. They, along with other law enforcement, escorted Kellywood from Tucson to Taylor Feb. 18 with a procession bringing him home — honored along the way by many communities.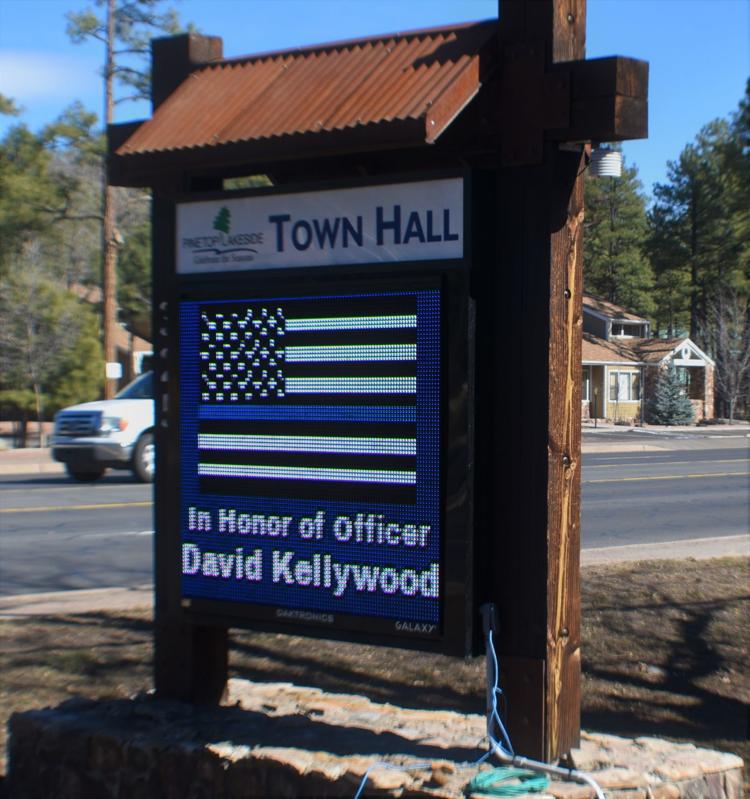 The Town of Pinetop-Lakeside immediately shared the loss of Kellywood on their Visitor Center digital billboard and began offering blue ribbons and light bulbs at the town hall until they ran out. They continued to encourage the community to show their support with blue ribbons.
Gov. Doug Ducey ordered flags at all state buildings be lowered to half-staff on Feb. 18 from sunrise to sunset in honor of Kellywood.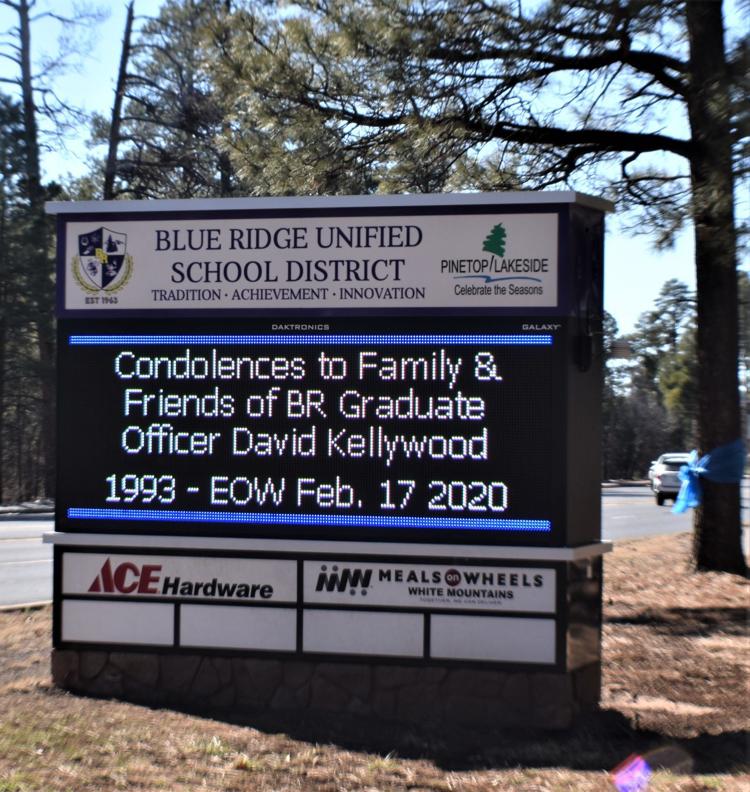 Blue Ridge Unified School District, where Kellywood graduated in 2012, had immediately put a sign on their digital board on Feb. 17 acknowledging the loss of one of their own and offered condolences. They organized a barbecue on Wednesday as "a collective effort to share our love and support for the Kellywood family." The invite to the community made its rounds through social media and scrolled on their digital billboard, as it did for the Town of Pinetop-Lakeside.
Blue Ridge Junior High proclaimed Hat Day for today, allowing students to wear their hats by contributing $1 to the Kellywood fund and invited anyone in the community, and other students, to make monetary contributions at the Junior High front desk.
The Snowflake Taylor Police Department and Benefit Intelligence Solutions invites the public to participate in their fundraiser for the Kellywood family at a cookout from 5-8 p.m. Saturday, Feb. 22 at the Snowflake High School Gymnasium.
Feb. 27 – Feb. 29 "theChurch" will be holding a wake for Officer Kellywood and is asking the community to bring water bottles, drinks, paper goods, etc. for the Kellywood family to 1200 W. White Mountain Boulevard by Feb. 25.
White Mountain Tees in Snowflake has created a "Unity in the Community" shirt to honor Kellywood's memory. Jill Tinkel State Farm is a partner and will offer shirts for sale at her office in Show Low. Sales from the shirts will be donated to the family and will be ready for shipment or pick up Feb. 26.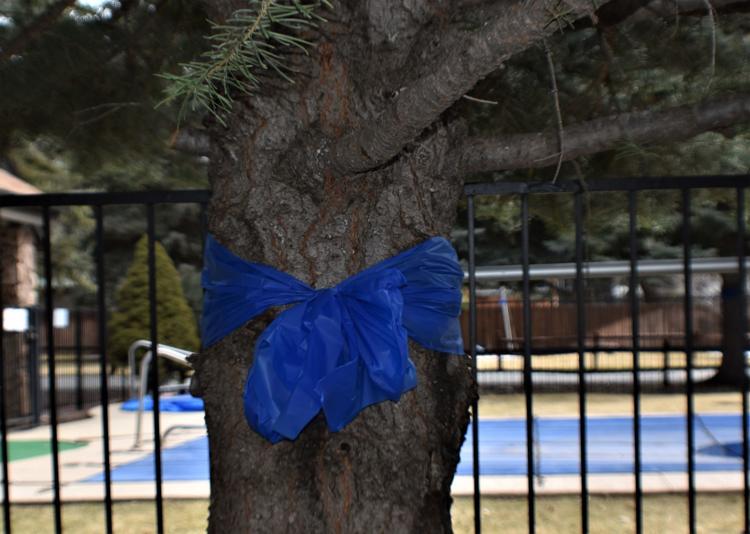 The 100 Club of Arizona, backing the badge, has also offered their condolences, along with thousands of others across the state and beyond.