Healthcare workers and nursing home residents and staff may get the first dose of a safe, wonderfully effective COVID-19 vaccine before Christmas, say local and national health officials.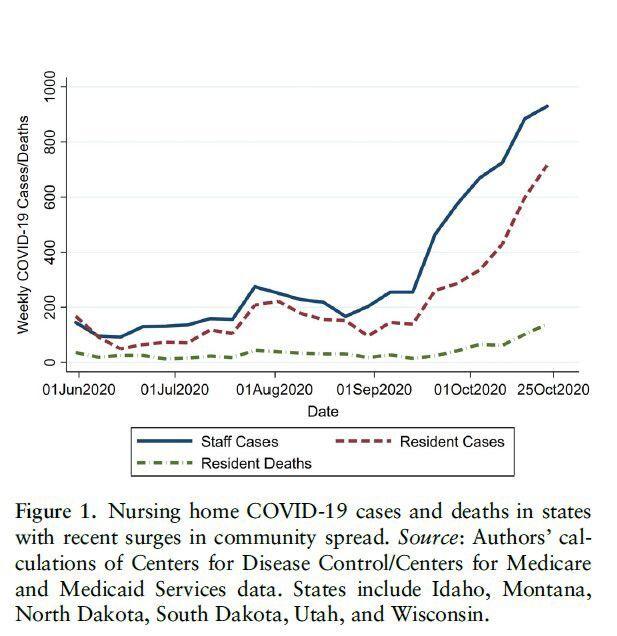 Both Moderna and Pfizer hoped to get emergency federal approval for an innovative, two-dose vaccine this week. They have said they can manufacture enough shots to protect roughly 10 million people before the end of the year and hundreds of millions of doses for the US by the middle of next year.
The vaccine may arrive just in time to protect healthcare workers coping with a fresh surge in cases as well as nursing home workers and residents, already facing a second, devastating surge of cases. That could get the nation to "herd immunity" that would dramatically slow the spread of the virus by May.
Nursing home residents in Arizona account for a staggering total of deaths — especially in Gila County and other retirement-heavy areas.
People over 65 in Arizona account for 12% of confirmed COVID cases but a staggering 72% of deaths.
Nationally, nursing home residents account for an estimated 6% of reported cases, but a tragic 38% of all deaths.
Josh Beck, with the Gila County public health department, said the state is racing to firm up plans to begin vaccinating high-risk group in the next few weeks — including providing the super-cold storage units needed to handle the Moderna and Pfizer vaccines.
He said the first round of vaccinations will likely go to medical workers and nursing home residents and staff. Other "essential workers" will likely get the next priority — including teachers.
"Teachers have not been mentioned specifically that I have heard at the federal level, but I know they were brought up as essential workers in the vaccine task force calls," Beck wrote in an email response to questions. "It has been discussed that in order to keep schools open we need teachers, and it does not take a lot of teachers being out to close a school. So teachers are clearly high up on the list of essential workers in a lot of our opinions."
However, front-line healthcare workers and nursing homes will have the top priority for whatever vaccine the state gets by the estimated Dec. 21 distribution date, he said.
The Moderna and Pfizer vaccines have each proven 95% effective with no serious side effects in Phase III clinical trials involving more than 60,000 people. The vaccines involve a brand new technology built on a single viral protein, which the body's own muscle cells then produce – alerting the immune system to any subsequent infection. Both vaccines must be super-chilled and become quickly ineffective if left at room temperature. That has posed challenges for the existing vaccine distribution network, said Beck.
The unprecedented speed with which biomedical companies developed the first vaccines and the accelerated federal approvals represents a triumph for both medicine and the federal government's Operation Warp Speed.
The federal government has provided $12 billion to speed the development of six vaccines, betting heavily on a never-before used technology based on messenger RNA. Some 70 vaccines are in development world-wide, mostly relying on traditional technology. Russia and China begin wide use of a traditional vaccine without completing Phase III clinical trials to measure effectiveness and side effects.
Beck said county health departments don't yet know how many doses they'll receive in December if the Moderna and Pfizer vaccines get emergency approval this week as expected.
"We have not received a solid number of doses figure yet, but if you take into accounts the estimates out there, I would say the first round will unlikely make it past the care centers and health care workers/first responders. The good news is it sounds like the following rounds will come in at a nice steady pace. Since the leading vaccines must be taken twice, from the same lot, it does take a lot of manpower and planning so the capacity of producing the vaccine and our capacity to administer it might align pretty well."
The current alarming surge in nursing home cases could push those facilities to the front of the line. Some studies suggest nursing home cases rose 700% in October.
Arizona doesn't consistently report nursing home data to the national government. However, in at least 17 states which do nursing homes account for a dismaying half of all COVID deaths. Nursing homes account for 34% of the deaths in California, 40% in Florida, 31% in New Mexico, 54% in Oregon, 52% in Washington, 40% in Utah, 80% in New Hampshire and 61% in Maine.
Nationally, the death rate for those with a confirmed positive test is 2-3 %, although many infected people never get tested or even develop symptoms. In nursing homes, the case fatality rate is 16 % — roughly eight times the general population.
One recent study found that nursing home cases surged in October and early September. Infections among nursing home staff increased nine-fold and cases among residents increased seven-fold, according to the study published in Research Letters, a journal of the American Geriatrics Society.
The survey found that many nursing homes still don't have enough masks, gowns, gloves and other supplies to protect either staff or residents. Worse yet, 12 % of the nursing homes surveyed don't regularly test staff and residents for the virus, one of the most important ways to prevent an infection from spreading throughout the facility.
"Despite best practices having emerged, these practices are either not being fully implemented or are inadequate to control the virus. A lack of staff testing for 12% of facilities is especially concerning, given the role of staff in transmitting the virus. One likely explanation is that best practices require sufficient testing and PPE as well as sufficient staff to implement them, but substantial numbers of nursing homes continue to report shortages of these critical resources."
Meanwhile, nursing are advertising urgently for more staff and pleading for the vaccine.
"The lack of prioritization for long-term care and seniors housing at the outset of the pandemic led to devastating losses, and we cannot let that happen again," said the American Health Care Association in a prepared statement. "Ensuring residents and staff in all long-term care and senior living settings are among the first to receive a COVID-19 vaccine will help limit the spread of this deadly virus and prevent further tragedies. We also want to get residents out enjoying social activities and seeing their loved ones again. A vaccine is one critical step toward that goal. This is especially important with the new surge of COVID-19 cases nationwide. Independent research from our country's most prestigious universities shows that a high rate of spread within a community will likely lead to outbreaks in long-term care. We are seeing this unfold now, as cases among the general public and nursing homes hit record numbers."