WHITE MOUNTAINS — The residents of the White Mountains certainly love their birds. Every year, we look forward to the return of hummingbirds in the spring and summer. We even have summer festivals in honor of their return. Bird watching is a favorite past time while camping during the warmer months, and winter just wouldn't be the same without that flash of red against the snow as Arizona cardinals skip from tree to tree and feeder to feeder.
With traditional power plants going by the wayside and new, green energy sources such as solar and wind turbines coming into the region at an unprecedented rate, many are left wondering what these changes may do to our beloved birds. A reduction in pollutants is always positive, but what kind of impact will wind turbines have on our bird populations?
Many people believe that windmills are detrimental to many bird species, including eagles and hawks, with some calling wind turbines one of the biggest dangers to birds in the modern era. Even President Trump remarked during a Dec. 21, 2019 speech that windmills were "bird graveyards."
What is killing the birds?
There is evidence to support that birds do, in fact, get caught up and killed in wind turbines. According to statistics from multiple studies compiled by the U.S. Fish and Wildlife Service, it is estimated that roughly 234,000 birds a year die in wind turbine run-ins. This sounds like a tremendous number, but overall, wind turbines are actually one of the lowest causes for bird mortality, coming far behind collisions with cars (which kill 214.5 million birds annually), electrical lines (25.5 million) and collisions with building glass (599 million). Even oil pits and evaporative ponds (750,000) kill three times as many birds as wind turbines do in the US every year.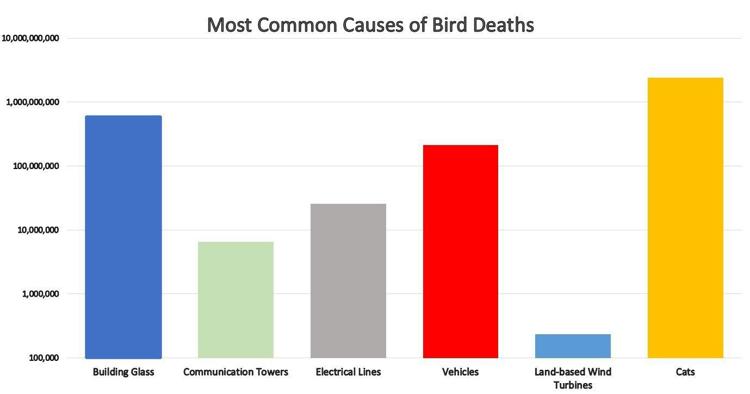 While we don't like to think of our sweet little Fluffykins as killers, domestic cats single-handedly win as the leading cause of bird mortality rates. Cats are responsible for more bird deaths than all other causes combined, killing an astounding 2.4 billion birds a year in America, according to the U.S. Fish and Wildlife Service.
Cats have been linked to the extinction of 63 species of birds, mammals, and reptiles around the world. They are considered by some studies and organizations as one of the most invasive and destructive non-native species in the world. In Hawaii, the introduction of cats in the 1700's led to the disappearance of multiple species of native birds.
Around 93 million cats are owned in the US, with millions more unaccounted for as feral or "unowned." All cats hunt and play, even very well-fed cats, so it's important for cat owners to keep an eye on their animals and restrict their outdoor time, for their safety as well as for other animals that they may kill. Some advocate that cats be kept indoors at all times. For those living rural lifestyles, this option, admittedly, may not be the most feasible. Barn cats help reduce unwanted mice and rats in feed, and with Hanta virus existing in the region, mouse-free sheds and vehicles are a big boon to human health. Cats provide a more natural defense against these pests, allowing for less use of poisons and traps, which could target beneficial creatures as well.
The best thing concerned citizens can do to help reduce bird deaths, by and large, is to spay and neuter their animals and consider keeping their pet cats indoors at all times. A study published in the journal "Nature Communications" cites that a majority of bird deaths happen at the hands of free-roaming, unowned kitties, much more so than those that are well taken care of in a home. As the population of both owned and unowned cats increase, so do bird deaths. Doing our part to help with animal population control could go a long way to saving our little winged friends.
Amber Shepard is a local journalist covering municipal governments and other Apache County topics.