SHOW LOW — If you've noticed the large, barn-like structure being built at the Show Low Bluff Trail parking lot, you've also noticed that it's almost finished.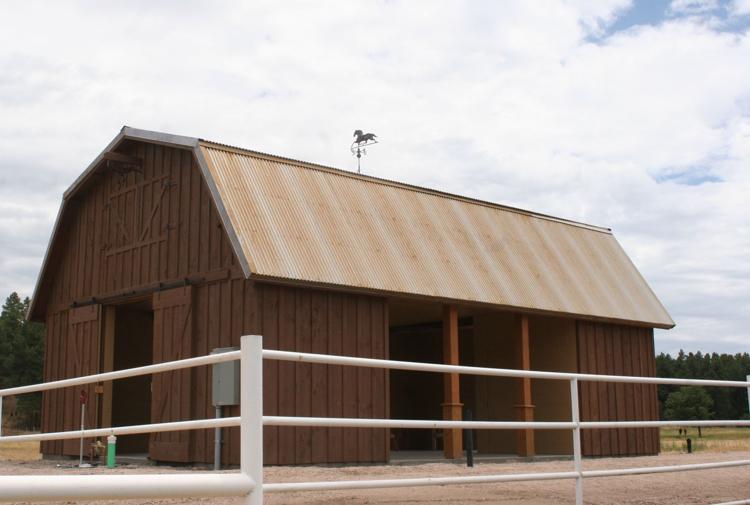 The area is also referred to as "The Meadow" and sits on the east side of south White Mountain Road/SR260 and the Woolford Road extension in Show Low. It's a trailhead for the hiking, disc golf and fishing along Show Low Creek.
It's also a scenic, easily accessible area to view wildlife and relax by the stream.
"Over the past two decades the City of Show Low has purchased approximately 68 acres along Show Low Creek," said Show Low Public Works Director Bill Kopp. "The property is enjoyed by hikers, fishermen, and disc golf enthusiasts."
The recent construction at the meadow trailhead is for a pavilion with restrooms to serve the high number of visitors to the meadow. It's a popular spot for locals as well as summer visitors and tourists traveling through the White Mountains.
"The building is designed to resemble the old Ellsworth barn that was located at the south end of the meadow near what is now the National Bank of Arizona," said Kopp. "When the barn was demolished, the salvaged wood was donated for the purpose of building the new structure. Salvaged beams and timbers are also used as decoration in the building."
When opened to the public, the building will have picnic tables and informational displays.
The old style barn doors can be opened or closed depending on the weather. There are also some donated architectural details that include an antique hay trolley and a decorative weathervane.
If you go: Show Low Bluff trail is part of the White Mountain Trail System of Arizona through TRACKS. It is a 1.5 mile primitive, loop trail rated easy to moderate for hikers and mountain bikers.
Show Low Bluff Development provided an easement to the City of Show Low so that the trail is for the community. The City of Show Low provided and maintains the parking lot and asphalt path across the walking bridge.
The area is also part of the Community Fishing Program which was created through an intergovernmental agreement between the Arizona Game and Fish Department and the city of Show Low Community Services Department.