PINETOP-LAKESIDE — Though the 95th White Mountain Apache Tribal Fair & Rodeo was cancelled this year due to COVID-19, Chairwoman Gwendena Lee-Gatewood and the Queen Committee agreed that the 68th Miss White Mountain Apache Queen Pageant must take place to ensure the tribe had an official ambassador.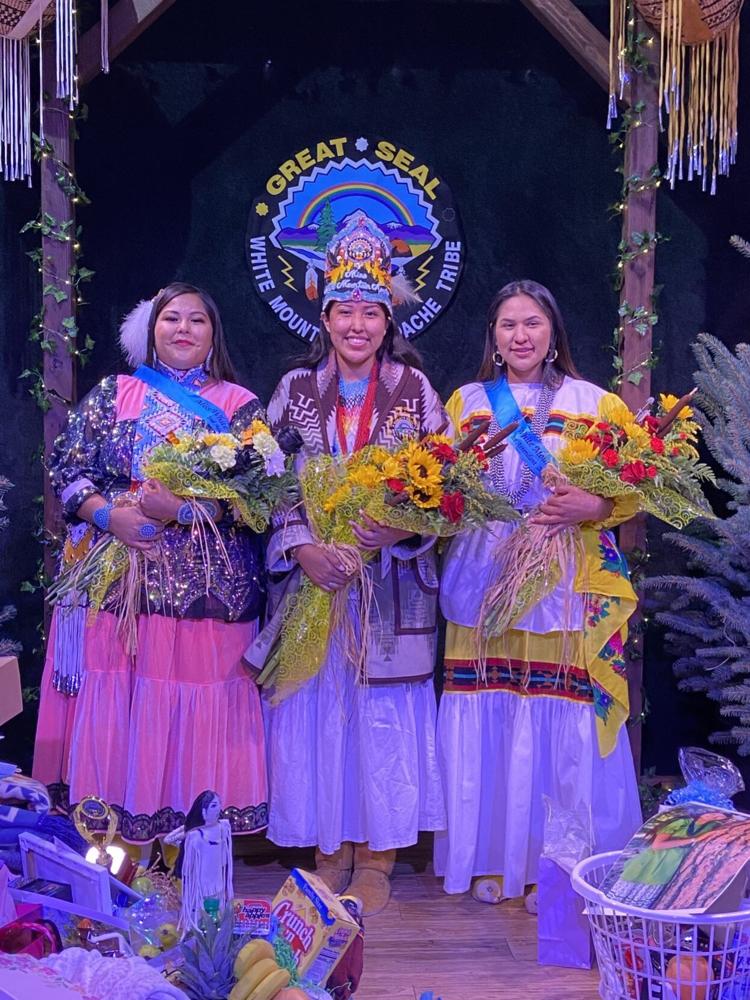 On Saturday, Sept. 26 at Hon-Dah Resort-Casino and Conference Center the 2019 — 2020 Queen Fredrika Joy Dazen relinquished her crown to the 2020–2021 Queen, MakanaLani Pike, live-streamed on Facebook. First runner-up was Mandy Dazen and second runner-up Monica Cosay.
Master of Ceremonies Jerry Gloshay Jr., the chairwoman's chief of staff, held the microphone and the attention of an audience of 62,000 plus viewers for approximately two and one half hours. All the while, contestants, judges, auditors and others involved in the pageant performed their duties and followed the EOC (World Health Organization) guidelines of social distancing.
Though her name is Hawaiian, given to her by an uncle who also named her other three siblings with Hawaiian names, MakanaLani is White Mountain Apache through her mother Eileen Ellen Crocker and San Carlos Apache through her father Justin Pike. Her name means "Gift from Heaven." She attended Blue Ridge High School and graduated from Alchesay in 2017. She was a member of the Tribal Youth Council and has been involved in many other organizations and activities, and only two weeks before the pageant, returned from an 18-month mission in Oklahoma for the LDS Church.
Not only did Pike win the title of queen but she also won Miss Photogenic, Best Talent and Best Virtual Presentation. Dazen won the Essay Writer category.
Pageantry is not new to Pike, she was the 2016 Junior Miss White Mountain Apache. Her mother was also the White Mountain Apache Queen in 1994-1995.
While on her mission, COVID-19 changed the way she and the other missionaries interacted with people. Technology replaced in-person activities and that was when Pike learned to make videos using her cell phone as well the use of other forms of technology such as holding meetings on Facebook and Zoom. It is those very tools she and her queen court will use to implement their platform.
Under the current state of affairs, and with travel and human contact still limited, Pike did a post pageant interview with her mother advising that the queen court will make live videos, do on-line panels, meetings and trainings, along with consistent posts to keep everyone connected. They will also use Instagram, Facebook, Snapshot and will create a YouTube channel.
Inviting others to be a part of her reign, Pike said, "It will be hard with this pandemic but there is still work to do — still so much we need to do as a people. We need to be there for each other during this pandemic, virtually and through technology. Share with us what you think we should do. We came up with my idea but want to include you."
Pike went on to say that the videos will include people in leadership and affirmed that leadership is more than someone who has a title or a crown.
"It is important your voices are heard," said Pike, as she explained her platform.
She highlighted talents as one of the important tenets of her platform stating that talents help the Apache people to rise up and become the leaders they are capable of becoming. She said that in her own life she was given opportunities to help her by being involved in organizations, conferences, conventions, pageantry, leadership training and youth council.
"Leadership does not have an age limit," said Pike. "(It) does not start when you are an adult. As a native youth we all have a voice and can use it."
Pike acknowledged it had been a "very exhausting and busy week," but she loves to be in service to others. She also humbly acknowledged the many posts of support she received on Facebook and promised to respond, saying how much she appreciated them.
We have faith and hope and have the gift of technology," said the newest ambassador for the White Mountain Apache Tribe who seems wise beyond her years.