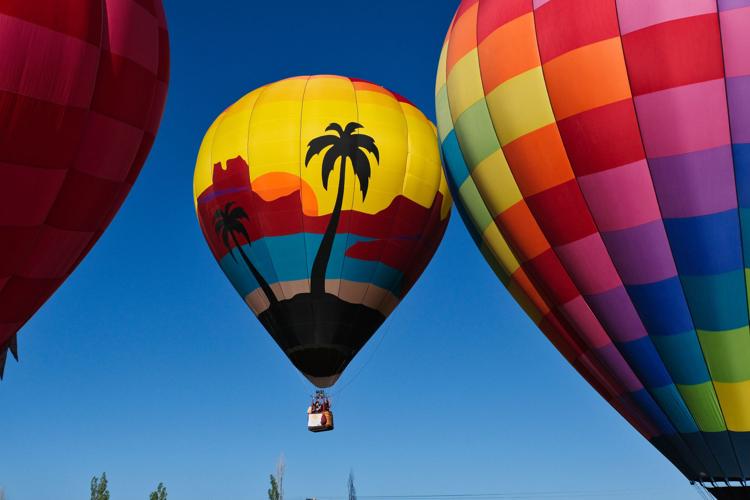 PINETOP-LAKESIDE – Navigating events during COVID-19 has been extremely difficult for event planners as they hope against hope that their event will not be one of the 2020 casualties. Daily checking the Arizona Department of Health Services dashboard and waiting to see which Phase their event might fall into has been an agonizing feat for planners. Pinetop-Lakeside's White Mountains Balloon Festival, June 26 -28, is no exception. And, the news is – it is on the cancellation list, but it is likely to go forward this year with modifications, that is.
Pinetop-Lakeside's Community Service's Director Tony Alba and his staff have been getting ready for the 3rd Annual event since they successfully ended the last one in 2019 which was a huge comeback from its rough beginning in 2018. The 2019 was so successful that people have been talking about it all year and looking forward to the additions planned to make it even better this year.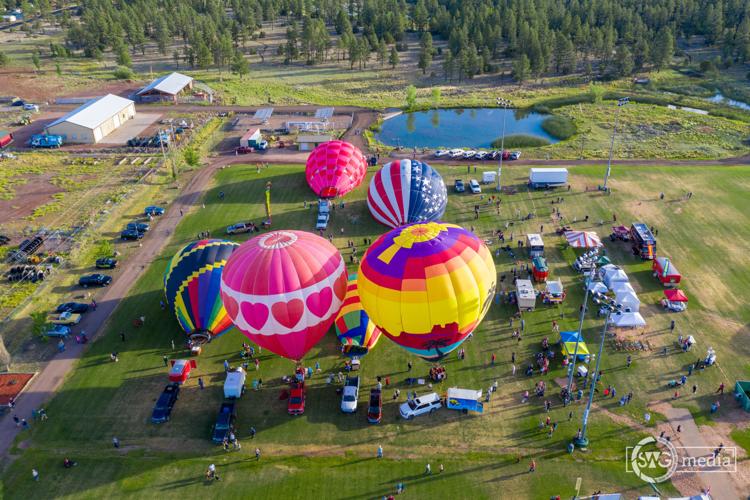 We are so use to hearing cancellation after cancellation due to COVID-19 that it should be a pleasant surprise to learn that Pinetop-Lakeside has used their creativity and ingenuity to find ways to still put on the event, help people to get outside safely, and ethically honor the sponsorships and providers for the event.
Though the bi-monthly Pinetop-Lakeside Town Council meeting was calendared for June 4 at 6:00 p.m., a time which is after the Independent has already gone to press for the Friday edition, Alba told the Independent that he is 99 percent sure the council will approve his recommendation to move forward with the event with modifications. That is, the hope.
Arizona Gov. Doug Ducey has stated from the beginning that he will follow the White House and Center for Disease Control guidelines for re-opening the State of Arizona. With that edict in place, Arizona is still currently in Phase One. Looking at the calendar, if all goes well, Phase Three of the guidelines – where the large gathering clause can be lifted — will likely not occur until at least July. With the festival set for the last of June, the White Mountains' event may only have reached Phase Two by that time, but definitely not Phase Three.
In a letter sent out to sponsors and vendors early Thursday Alba wrote, "Tonight, I will appear before our Town Council for a discussion about how to proceed with the event. It will be my recommendation to the council that we not move forward with a public festival.
"...we do not see a path by which we can safely and successfully conduct a public festival with live music, vendors and a crowd upwards of 2,000 at a time.
"This is a very difficult and painful decision for us. Our community has been through perhaps the most difficult time we've ever experienced and we were hopeful the balloon festival would be a "coming out party" of sorts.
"Our pilots have all agreed to come and fly, festival or no festival. We are working on a plan to allow residents and visitors to enjoy the balloons in flight while exercising physical distancing and following health and safety guidelines. And, we're looking into the possibility of having a "drive by" balloon glow on Saturday evening, June 27."
Though the plans are not totally complete at this juncture, if the council approves Alba's recommendation, festival attendees will be able to see balloons and experience a fun time safely with social distancing. The Independent will update agenda particulars as they are made available.
As to the sponsors and vendors, recognizing their invaluable contribution in support of the balloon festival, in his Thursday letter Alba advised that he would follow up with each of them on Monday, June 8 following council's decision, and offered several options available to those who have already committed to the event.
"If you purchased a sponsorship that includes a balloon ride for two people, you may retain your sponsorship and all associated benefits for this year, including the balloon ride. Please refer to your sponsor form for details; Vendors and sponsors may carry over their payment to next year's event, which will take place June 25-27, 2021. This will secure your spot for next year's event; If you elect to have your vendor fee or sponsorship fee refunded, we will honor that request," wrote Alba.
One of the Marine Corps mottos is "Adapt and Overcome." In a COVID-19 year, it seems to be everybody's motto.
PINETOP-LAKESIDE 6/5/2020 ARTICLE UPDATE– Community Services Manager Tony Alba addressed the town council at the June 4 bi-monthly meeting regarding the cancellation of the 3rd Annual White Mountains Balloon Festival scheduled for June 26 – June 28. The item was on the agenda, not as an action item, but merely to update council on the decision to cancel the festival itself, and get their feedback on the decision of staff's recommendation. The morning flight of the balloons will still take place all three days, and next week Alba and his staff will further explore the idea of a Saturday evening balloon glow. As the plan is solidified, the Independent will provide those details.