Governor Doug Ducey's office announced Friday that Navajo County District IV Supervisor Steve Williams has been appointed to the Arizona Court of Appeals Division 1.
A unexpected vacancy occurred on the court this past summer following the death of Judge Jon W. Thompson. The vacancy on the court is required to be filled by a judge from one of eight rural counties in Arizona, including Navajo.
In addition to serving on the Navajo County Board of Supervisors representing District IV, Williams is also a judge pro-tem in Apache County, where he presides over civil, family, probate, guardianship and mental health cases.
He began his legal career at the Maricopa County Attorney's office in 2005 and also practiced law privately.
Judge Williams attended the U.S. Naval Academy Preparatory School, while serving active duty in the Naval Reserves, before being honorably discharged. Judge Williams graduated cum laude from Arizona State University with a Bachelor of Science in Justice Studies, and a Minor in Communications, and was a member of the men's wrestling team. He then obtained his law degree from the Arizona State University College of Law.
Williams underwent a long and rigorous application process that is conducted by the Arizona Commission on Appellate Court Appointments, a commission that includes 10 citizens, five attorneys and a state supreme court justice. The process includes numerous interviews, including interviews with Gov. Ducey's staff and the governor himself. Seven candidates initially applied for the position.
Williams said he interviewed with the Governor on Tuesday and he received a call notifying him of his appointment on Thursday afternoon. He said he does not have a firm date yet for when he will begin his duties with the court.
"Most people's interaction with the court comes at the trial level. For the past three years I have sat in court with people on some of the more difficult days of their lives. In making rulings based on the law, I've always tried to remember the human element involved and treated people with respect, fairness and an open mind, in the same way I would want a judge to treat me if the roles were reversed. Having served as a trial judge has provided a great foundation for service on the Court of Appeals (which reviews decisions made by trial judges). I am looking forward to continuing to serve the people of Arizona in a new capacity as I remain committed to sustaining the Constitutions of the United States and Arizona. I am deeply humbled and appreciative of Gov. Ducey's confidence in my ability to do the same," Williams said in a written statement.
Apache County Superior Court Judge Michael Latham praised Williams, and said he supported his bid for the court of appeals.
"He has a great temperament as a judge. He's fair, he really does try to listen to everybody's points of view, he doesn't get emotional … he just tries to remain very measured and fair … he really takes the time to think through things," Latham said.
"I think every single one of our judges wrote letters of recommendation for him. I went down and participated in the commission's interview process just to observe it … obviously, we'll be really sad to have him go, but I think he'll do a great job at the court of appeals," Latham said.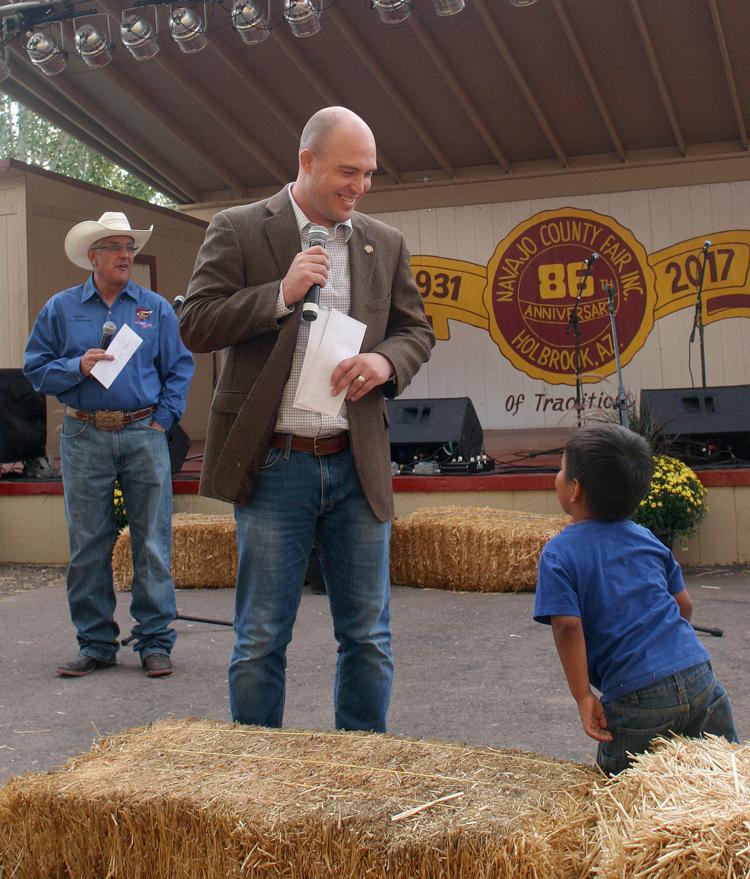 The Division 1 Court of Appeals to which he has been appointed is located in Phoenix. Williams will be joining another White Mountain native who sits on the court of appeals, Michael J. Brown, originally of St. Johns, who was also formerly a city attorney for Show Low. Brown was chief Judge on the Court of Appeals from 2015-2017.
Williams has served on the Navajo County Board of Supervisors since 2015, when he took up the seat vacated by David Tenney, who was appointed director of the Arizona Residential Utility Consumer Office by the governor in 2015. Williams was was elected to the seat in 2016.
"It has been a real highlight for me to serve on the Navajo County Board of Supervisors. I've had reinforced again and again the value of having people in positions of influence that seek to find common ground with others and unite in common causes. It was a position I did not initially seek, but was asked to fill by Dave Tenney when he stepped down from public office. When that first term expired, I decided to run to retain the seat because I felt like I was making positive contributions. During the past five years we've made some easy decisions and we've made some difficult ones. In all of it I hope that I have served in a manner where people could count on decisions being made based on sound reason and with pure motives. I will always be appreciative to the people of District IV who took a chance on me. It has been an honor to work on their behalf," Williams said.
As Williams noted, this isn't the first time that a District IV supervisor's seat has been vacated by an appointment by the governor.
"It just goes to show the respect for the quality of leadership we have here in Navajo County," Navajo County Manager Glenn Kephart said.
"I am extremely happy for Supervisor Williams and his family. We will certainly miss him his role as supervisor for Navajo County, but agree that the governor has made a great choice," Kephart added.
"Judge Williams is a respected judicial officer and a leader in his community … I am pleased to appoint Judge Williams to the Court of Appeals," Gov. Ducey said in a press release.
Williams admitted to some mixed emotions, and he said that while he will be working in Phoenix, his family home will remain in Navajo County.
Kephart said that Williams will likely make a nomination for an individual to replace him on the board of supervisors, but that he has not been notified by Williams of any decisions yet.
Williams said the transition dates for his appointment and the date of his swearing in is still in the works. He said he expected to talk with the presiding judge on the court by sometime on Monday to begin creating a schedule for his transition.