WHITERIVER – Jan. 2 the White Mountain Apache Tribe (WMAT) came out of their 72-hour lockdown, which began on Dec. 30 at 8 p.m. until Jan. 2, 2021 at 8 p.m. At 8:01 p.m. the Tribe immediately transitioned into the Stay-At-Home-Order under the re-opening Phase One guidelines which, according to Chairwoman Gwendena Lee-Gatewood, is a management phase.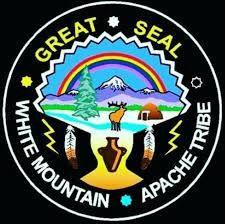 WMAT entered into Phase One on Dec. 27, 2020 and just two days later the Activation System was triggered for the 72-hour lockdown.
Lee-Gatewood stated on her Jan. 2, Saturday morning Facebook show that a Tribal Council meeting on Wednesday, Jan. 6 would introduce new presentations for the Tribe based on the fact that they now have a vaccine.
The Tribe implemented a Resolution in December 2020 which placed a moratorium on the Tribe's COVID-19 Alert System until Jan. 6. The WMAT Emergency Operations Center (EOC) was tasked with presenting an alternative plan to Lockdowns/Shelter-in-Place Orders and to amend the Alert System at that time after having done a review and reevaluation of the trends of the pandemic. Based on consultations with the CDC, Whiteriver Indian Health Service (IHS), John Hopkins University Center for American Indian Health and the Tribal Police Department, EOC prepared a "Safer-at-Home Order," which was designed to improve compliance with the Tribe's stay-at-home and lockdown orders as well as to educate the community.
The new Safer-at-Home Order states, "This initiative considers lessons learned and reflects current trends in the pandemic. We recognize that business cannot continue to be interrupted to the extent it has thus far. The White Mountain Apache Tribe's Safer-at- Home Order can only be effective at stopping the spread of COVID when everyone takes personal responsibility to protect others and keeps our community safe," Lee-Gatewood said
A list of practices to be adhered to by residents include such things as the usual social distancing, washing hands, wearing masks, getting the vaccine and staying at home, respecting and observing all Tribal ordinances, shopping guidelines and more.
The initiative requires all Tribal departments and applicable non-Tribal departments and businesses to only operate Monday through Friday from 8 a.m. to 3 p.m. Residents are strongly encouraged to conduct their business during this time and stay at home as much as possible.
Phases begin with the emergency phase and transitions to movement between the phases; Safer-at- Home, Phase One; Safer-at-Home, Phase Two; Safer-at-Home, Phase Three; Return to a Modified Normal and Back to Normal, all designed to keep Fort Apache Indian Reservation and Tribal members safe.
Beyond the Safer at Home initiative and taking into circumstances the current pandemic, the Tribe's EOC made the recommendation that the Tribe mandate that all Tribal employees receive the COVID-19 vaccine, consistent with current CDC guidance. With that recommendation, the Tribal council implemented policy and procedure guidelines at the Jan. 6 meeting to minimize the spread of COVID-19 by providing workplace protection.
The WMAT first made an Emergency Declaration due to COVID-19 on March 12, 2020. Following research, Tribal council allowed Johns Hopkins University Center for American Indian Health to start recruiting for the Pfizer BioNTech Phase 2/3 Clinical Trial of the COVID-19 vaccine. By the end of their target date they had recruited approximately 50 community members to participate in this research. On December 11, 2020 the Food and Drug Administration (FDA) approved an Emergency Use Authorization (EUA) for Pfizer's COVID-19 vaccine and then did the same for Moderna's vaccine on Dec. 18.
On Dec. 15, IHS received its first shipment of the Pfizer vaccine. The first 10 doses were administered that day with Lee-Gatewood receiving the first dosage. the IHS CEO, the Emergency Operation Center Incident Commander and the OC Incident Commander were next in receiving the vaccine.
Just last week, on Jan. 6, the same day at the Tribal council meeting, the WMAT held a COVID-19 Walk up/Drive Thru Vaccine Clinic at the Chief Alchesay Activity Center Parking Lot from 9 a.m. to 5 p.m. for eligible Phase 1a, 1b and 1c groups.
The vaccine workforce policy states that all tribal and enterprise employees are required to receive the COVID-19 vaccine, currently two doses, from the Whiteriver IHS, another healthcare provider, from Johns Hopkins Center for American Indian Health — if currently enrolled in the Pfizer vaccine trial, or sign a form declining the vaccination. Exemptions are made for medical, religious or personal reasons. Should an employee decline vaccination, they must still follow all policy precautionary measures, and may request workplace accommodations. A supervisor can request for verification of an employee's vaccination.
Employees are encouraged to follow the IHS COVID-19 Phased Vaccine Distribution Plan. If the employee schedules an appointment during working hours, they are eligible to use two hours of administrative leave for each dosage appointment, but it must be approved by their supervisor.
EOC continues to remind Tribal members, "We are one WMAT. We are stronger together. We will get through this together."