PINETOP-LAKESIDE — The White Mountain Nature Center (WMNC) and TRACKS are working together on a joint project to create a memorial grove of native trees on the WMNC property on Woodland Road in Lakeside.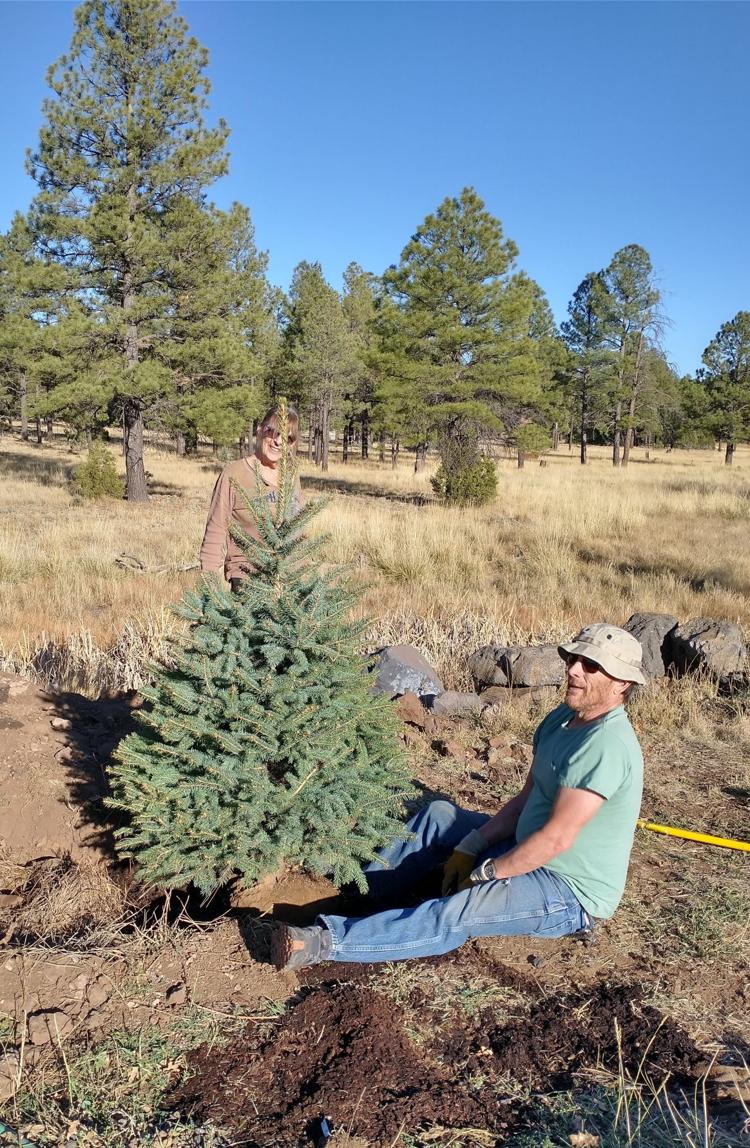 On Friday, Nov. 6, members from both organizations planted three pinon pines and three spruce trees. The timing was perfect because they were able to benefit from the moisture delivered by the recent snow storm. The trees are a memorial to TRACKS members who will later be identified with their names and additional information on a kiosk they plan to place in the area where they are planted.
The pinons are surrounded by a Zia symbol made of rocks and cinders. The Zia sun symbol represents the four periods of each day — morning, noon, evening and night — as well as the four directions — north, east, south and west. The center of the sun symbol represents a respect for nature. Pinons are heat-loving trees and the black gravel place around them will actually help the trees prosper in their new location.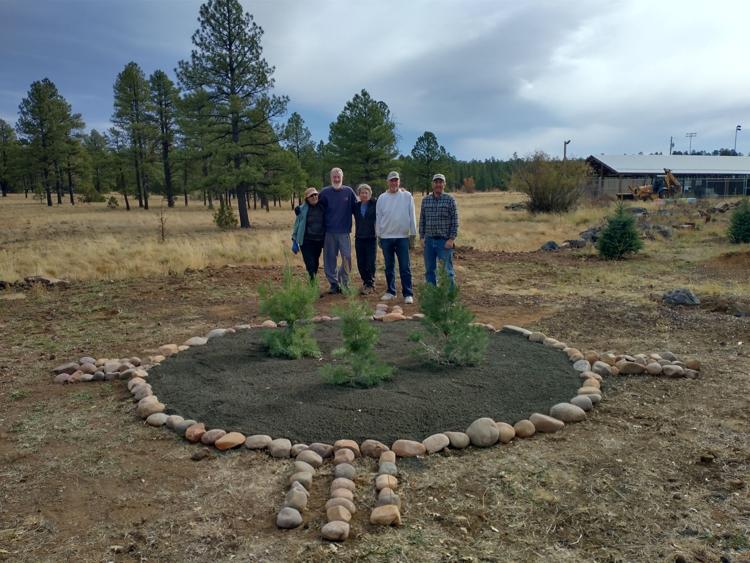 According to Pinetop-Lakeside Councilor Jim Snitzer, who is a member of both WMNC and TRACKS, and who participated in the project, the Zia was carefully aligned with the four directions and honors New Mexico which is the original home of the pinions they planted.
A pinon pine is an evergreen tree which is a smaller, slow growing pine reaching around 10-20 feet tall and wide and developing a flat, rounded crown with gnarly branches. It has shorter needles than a regular pine. They are found in semi-arid regions of the west, and is native to both Arizona and New Mexico, where the seeds are harvested and sold as nuts.
Snitzer said the project is expected to grow — no pun intended — with the planting of additional trees to memorialize additional members.
WMNC is a 501c facility located on 10 acres of land next to the Big Springs Environmental Study Area. It also includes five additional acres which they lease from the Town of Pinetop-Lakeside. Their mission is "to connect people with wildlife through educational experiences inspiring appreciation, responsibility, and respect for the inter-relationships among humans, other living organisms, and the natural world we share." They can be found on Facebook and at https://whitemountainnaturecenter.org.
TRACKS of the White Mountains is also a non profit organization made up entirely of volunteers who build and maintain non-motorized trails within the Lakeside Ranger District of the USFS. More information can be found at www.trackswhitemountains.org.