NAVAJO COUNTY – Though the gateway to summer-type activity is considered closed after Labor Day, and winter is on the horizon, Mother Nature often gifts the White Mountains with some beautiful days to still be able to get out and play.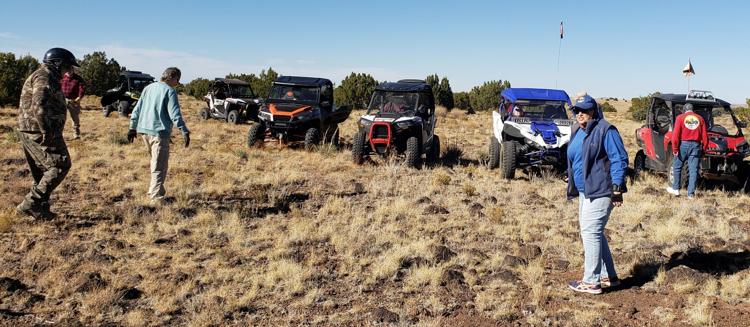 That was the case for members and guests of the White Mountain Open Trails Association (WMOTA) on Tuesday when their rescheduled ride of Nov. 10 — due to inclement weather — blessed them with such a day for their last formal ride of the year.
Beginning the day around 7 to 8 a.m. for most, the WMOTA members loaded up their all-terrain vehicles and utility task vehicles — a.k.a. side-by-sides — and met at a location on Lone Pine Dam Road for their ride orchestrated by ride planners Karen and Jerry Smith. The club plans monthly rides with different people officiating as the ride leader who chooses the route.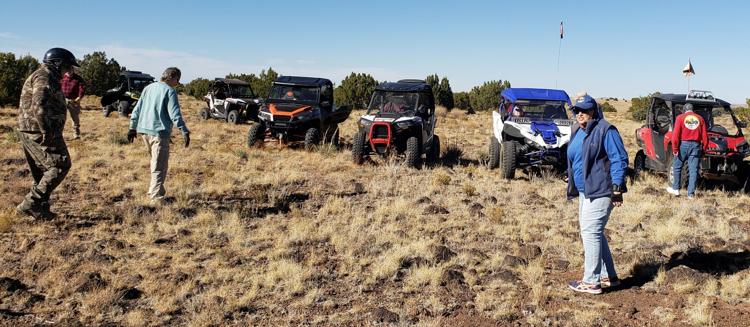 Typically during the summer months, according to Karen Smith, club treasurer, the monthly ride includes around 25 ATVs/UTVs that equates to around 50 people. Tuesday's ride included only seven vehicles, which made for a faster ride but it was an all-day ride totaling 55.5 miles.
Karen Smith chose this route, one that she had done before, but added a few surprises of her own along the way. Departing from the Trail Head (34.33192N, 110.11697 W) at Lone Pine Dam and Burton Roads at 9 a.m. the plan was to ride part of the Maverick Trail and enter Wilson Draw and arrive at Trapper's Cafe in Taylor around noon for lunch. Usually they brown-bag it and eat in the forest, but this was the annual exception. Following lunch, which had been topped off by Trapper's famous pies, the return was by way of Schoen Lake and an old smelter.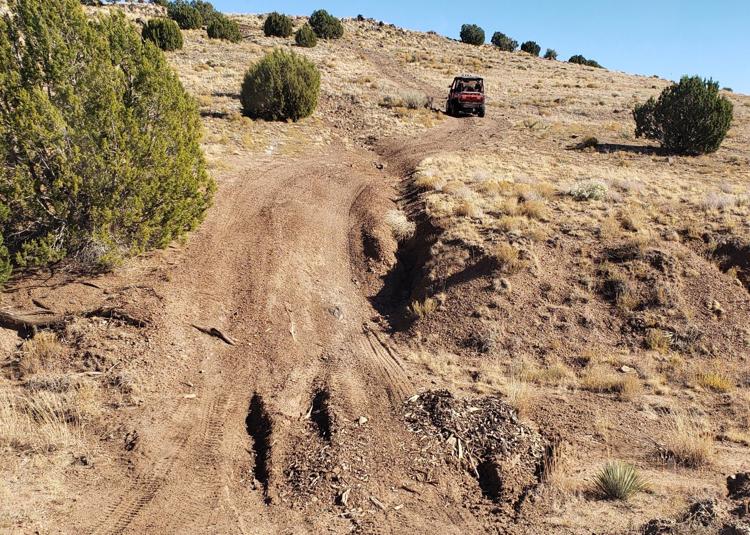 On the way back, the adventurous Karen, unsatisfied with not having gone down a couple of the roads-less-traveled by the group before, checked to see if everyone was game for heading down to the near-empty Schoen Lake by the dam. It was unanimous and the trek for an unplanned thrill of being where water normally would be, added a little luster to the adventure. Schoen's Dam is south of Taylor, and there is a fence dividing the lake from the dam side. The trail is slightly hilly with lots of river rocks, surrounded by cedar and juniper trees, and cows here and there that took note of the vehicles passing, but a fun up and down trail. Tracks that looked like crop circles on the empty lake added to everyone's imagination.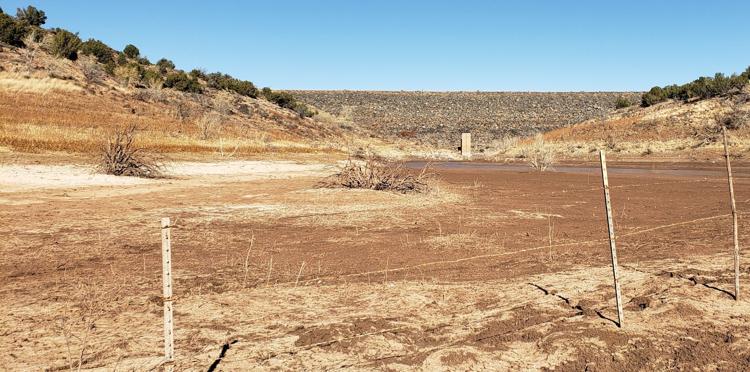 The next stop was at an old smelter and some of the majorly adventurous of the group, Jane Dyer and Karen Kramer, climbed to the top of the smelter to the very edge and were able to look into, and imagine, exactly what once took place inside of the structure. They did find a green wax or glass-looking substance which no one could identify and would take a bit more investigating to determine its origin, but it added a little Indiana Jones-type thrill to the trip.
Heading back to their point of origin and arriving around 3:15 p.m., the trail blazers removed their masks — not COVID masks, but dust masks — took off their gloves and jackets and unpacked and uploaded their vehicles for home. Though riders said the trip did not deliver the normal amount of dust of a ride, everyone was ready to clean up their vehicles and themselves.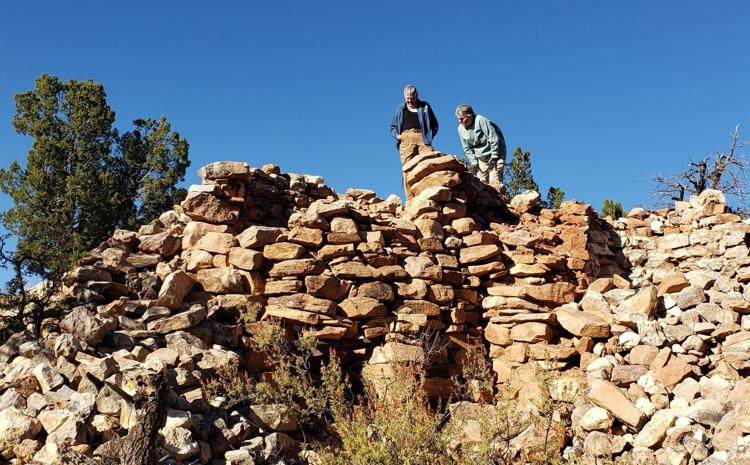 Though it was the last formal ride of the season, the day delivered a memorable adventure, full of fun that will sustain the majority until their next ride in 2021. For those who crave a bit more, Karen said there are rides at lower elevation (and where the weather is not inclement) that many will participate in until WMOTA resumes in 2021.
For those who may have only seen ATVs or UTVs on someone's trailer or truck or heading down the highway, the WMOTA is a non-profit group in the White Mountains whose major focus is the development of the Maverick Trail system in partnership with the U.S. Forest Service. The Maverick Trail runs from Clay Springs east to Pinetop and the group continues expansion work in both directions. The group's goal is to have a dedicated motorized trail system for ATVs/UTVs that runs over the mountains all the way from Heber-Overgaard to Springerville.
WMOTA has monthly rides, some that involve camping at the trailhead, and monthly member meetings. During the week members perform pre-rides to insure the planned trail is clear of obstructions and are always looking for other routes for members and their guests to explore.
Many may think they are not ATV/UTV types, but the saying, "Don't knock til you've tried it," applies. Types might surprise you. Karen and Jerry Smith, retired and married for over 50 years, might not be people you would expect to be ATVers. They are both retired and Jerry is the vice mayor of Pinetop-Lakeside, having had a career as a real estate broker, and Karen as a former controller and officer manager with International Fitness/Fitness West and finally working with her husband keeping his books.
Karen, the driver of their vehicle, is the adventurous one. Karen once asked Jerry why he married her. She said his reply was, "You were really adventurous and I needed to put myself out there more."
And, he did. Jerry is the navigator on their rides.
The rides are safe. Anyone joining the club must make their vehicle street legal. In Arizona that means you must have lights and a horn. Different states have different requirements.
The club is well organized. There is a leader and a tail gunner for each trip. Besides the pre-rides they do for trails, on each ride, they have a rotation that ensures someone does not veer off onto one of the side roads and gets lost. The leader motions for the vehicle behind them to block off a side-road and point the way to the actual trail. After all vehicles are seen to have followed the leader, the vehicle in rotation gets back into the line as they see the tail gunner approaching and everyone gets a turn at rotation.
These vehicles are not play toys and the skill and maneuverability of the members will truly amaze you. If your life has become somewhat stale, or you are looking for a social-distancing activity these days, find someone to let you take a seat with them and take a trip with WMOTA. It is a life-changing experience that infuses you with youth-like elixir.