WOODRUFF — Anthony Marc Mayfield, 65, of Woodruff, has pleaded guilty to one count of endangerment, a Class 6 Felony and one count of disorderly conduct with a weapon, also a Class 6 Felony. The two other charges against him, a second endangerment charge and a late-filed charge of possessing a weapon while a being prohibited possessor, were dismissed.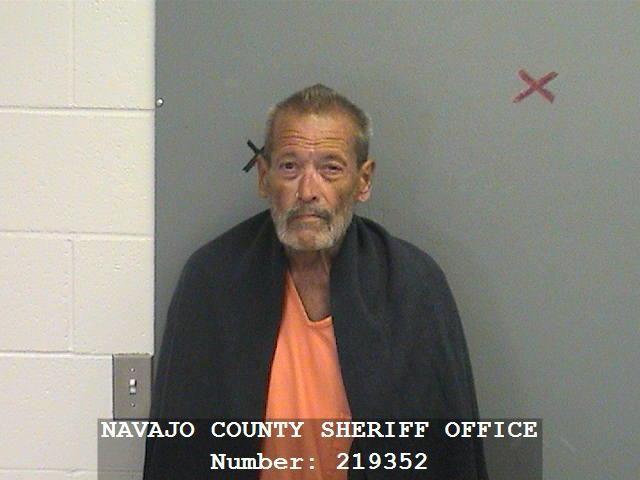 The charges arose from an incident on Sept. 25, 2019 near Old Woodruff Road and Johnson's Hill Trail after he allegedly fired shots towards two men from a 9mm handgun. Navajo County Sheriff's deputies responded there after two calls to 911. The callers said that they heard shots. One caller, new to the area had taken a bike ride and came across another man who was riding a motorcycle looking for a dog. The men did not know each other and after chatting briefly went on their separate ways. That's when they both heard gunshots and the bicyclist thought bullets whizzed by him, said Sheriff David Clouse in a press release at the time.
After arriving, deputies located a residence in the 5800 block of Old Woodruff Road from where they suspected the shots came. They made contact with Mayfield. The sheriff said the Mayfield would not cooperate with the deputies, ignored their commands and had a pit bull dog in the home which Mayfield used "to intimidate" the deputies, Clouse said.
Mayfield also had a 9mm handgun in his possession and after talking with the deputies, agreed to place it on a table. He then admitted to firing shots and was arrested, said Clouse. Mayfield was released on his own recognizance on Oct. 7, 2019. He is represented by Joseph Finch of the Navajo County Public Defender's Office; the state is represented by Blaine Rhoton, deputy county attorney. The case was assigned to Judge Dale P. Nielson.
The case had been delayed a number of times. At his court date on March 2, 2020 Mayfield did not appear, but called in. Apparently he was "having procedures done" in Phoenix, possible a medical procedure, according to court records. It seems that at the time there was a plea agreement in the works but the prosecutor told the judge on March 2 that he believed that Mayfield was "undercharged," that he should have been charged with the more serious aggravated assault charge.
The prosecutor also wondered whether Mayfield at the time was a prohibited possessor of a firearm, which could form the basis for an additional charge as well. Finally, the prosecutor made a remark about Mayfield having a "military record." It is unclear from the documents whether Mayfield has a record of military service to be taken as favorable to him, or whether there was the criminal record from his military service in his past somewhere. It does not appear that there was any problem with his military service.
But the prosecutor apparently found a prior conviction for Mayfield in Phelps County, Missouri, which the plea agreement referenced. That conviction may had been the reason for the prohibited possessor charge, which a grand jury indicted Mayfield for in June 2020. That charge ended up being dismissed. At first glance, it seems to have been unproductive to ask a grand jury to charge Mayfield with the prohibited possessor charge which was ultimately dismissed, but it is possible that the county attorney's office wanted the grand jury to look at the evidence for a possible aggravated assault charge, for which they didn't indict. It is also possible that the additional possessor charge, which is a much more serious Class 4 Felony, provided an incentive for Mayfield to take the plea offer to the two Class 6 Felonies — the least serious of any felonies in Arizona. If so, it would illustrate the typical sausage making involved in criminal litigation.
The plea agreement called for a probation-eligible sentence and on October 13, that's exactly what Judge Nielson handed down as Mayfield's sentence. He will be on two years of supervised probation and serve 12 days in jail with credit for the 12 days he served last fall. Mayfield must remain a law abiding citizen and have no contact with the alleged victims. He also must stay out of all bars and not possess or consume any alcohol. If he violates the terms of his probation, he could be sent to prison for up to two years.