HOLBROOK — Navajo County Health Director Jeff Lee on Tuesday issued a fresh plea for the public to wear masks, avoid big groups and keep their social distance, with COVID-19 cases on the rise and newly reopened schools reporting on-campus cases.
"We've seen a slight uptick in cases and some of the first cases not linked back to a school exposure," Lee told the Navajo County board of supervisors. "This really indicates continuing community spread. We've also seen a significant drop in the number of tests, which will affect our percent positivity testing with schools and businesses," he continued.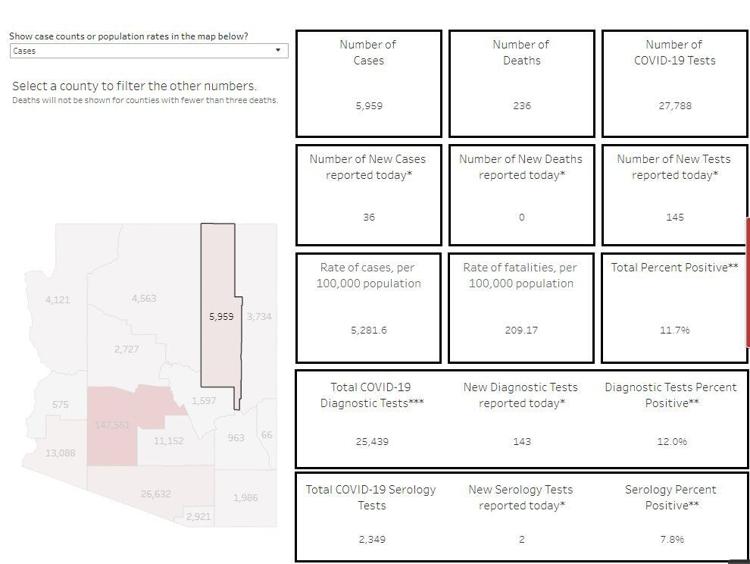 Most school districts in the county have resumed in-person classes, including Winslow, Holbrook, Snowflake, Blue Ridge, Show Low and Heber-Overgaard. Schools on the Navajo and Apache reservation are considering returning to class, according to Brian Layton, assistant county manager.
Layton noted that "many" schools have reported COVID-19 cases among faculty and students. Schools refer positive cases to family doctors and the county hasn't yet adopted a comprehensive testing policy or criteria for when an on-campus outbreak merits a return to distance learning for an individual campus or district.
"We are working on a testing system for students and staff, currently they are referred to their primary care provider or healthcare faculty," stated Layton in an email. "Not every exposure would require being tested. Based off the disease investigation and contract tracing, it is determined individually if they are a low, medium or high-risk exposure. There is enough testing capacity throughout the county for those who want to get tested," said Layton.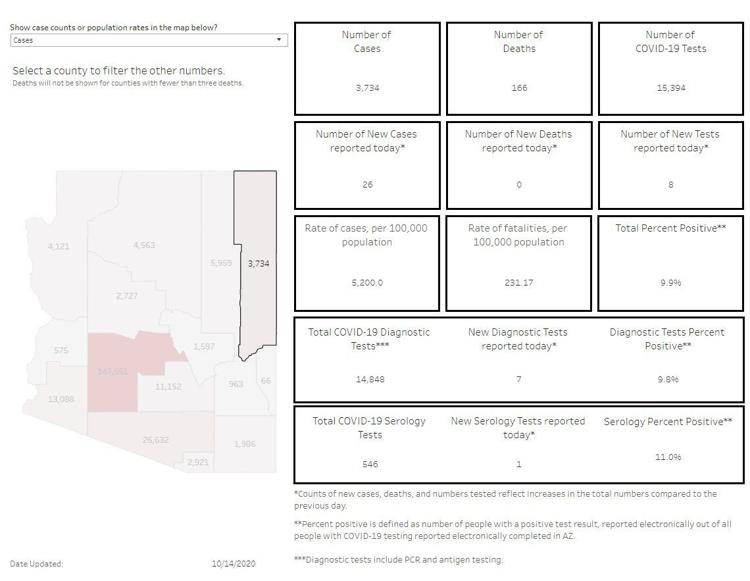 Mostly, the decision's left up to the local school board. "We are in close contact with each district superintendent and will provide education and recommendations, but the ultimate decision is the governing authority of that school."
In the meantime, Lee urged the public to continue wearing masks in public and avoid the kinds of crowded "super spreader" activities and events that have played a key role in the spread of the pandemic.
"We know there is COVID fatigue, this has been lingering on since the beginning of the year," said Lee. "The challenges continue, but we need to avoid another spike like we saw in June and July. We need to focus on physically distancing, washing our hands, wearing a mask when you can't socially distance and staying home if you don't feel well."
Lee noted such precautions could also cut off a bad flu season, which would compound the impact of COVID-19. "We're just entering the flu season now. The flu vaccine is available. It's another stressor on our system and we need to avoid any co-infection."
Health officials hope that the use of masks and social distancing will hold off a fresh, surge in infections until the US can approve a safe, effective vaccine, hopefully in the first half of 2021. Nationally, an estimated 10% of the population has been infected, which means we're still far from the hoped-for protection of "herd immunity."
Supervisor Jesse Thompson seconded that plea. Portions of his district on the Navajo Nation suffered some of the highest death and infection rates in the country. "I believe we still need to continue to follow very closely with the guidelines and do everything we can to ease the burden. Up on the Navajo Nation, we were hit very hard and it's gotten much better — but to really get rid of the virus we need to continue to follow the CDC guidelines."
Nationally, the number of infections is nearing 8 million, with 216,000 deaths. The steady decline in the number of new infections nationally bottomed out in mid September. In the past two weeks, the daily tally of new cases has risen 21% nationally — driven by a surge in the Midwest and south and portions of the west.
In Arizona, the number of new cases has increased by an average of 44% per day in the past two weeks, according to a national data base maintained by the NY Times.
Fortunately, the number of deaths in Arizona has declined by 59%. The trend in deaths generally lags behind the trend in new cases by three or four weeks. Moreover, doctors have also begun to lower the death rate for hospitalized patients with improved treatments, including anti-viral drugs, steroids and more effective use of breathing support.
Apache County has reported 93 cases in the last week, a rate of 129 per 100,000. Navajo County has reported 95 cases, a rate of 99 per 100,000. Arizona has reported nearly 5,000 new cases in the past week, a rate of 66 per 100,000.
Nationally, the lack of consistent reporting, comprehensive studies and policies has made it difficult to assess the impact of the return to in-person classes in schools across much of the nation, according to a research review published in the journal Science.
Overall, studies suggest that the virus does not readily infect children younger than 10 – and when it does they're unlikely to get seriously ill. However, some studies in other countries have suggested younger children can carry and spread the virus, even if they don't have symptoms. The virus apparently does spread readily among teenagers, although few develop fatal side effects.
One US analysis of 150,000 people infected with COVID-19 found just 1.7% of those were younger than 18, according to the Science summary. On the other hand, a study of 400 infections and their 1,300 close contacts found children were just as likely to be infected as results.
In Arizona, people under 20 account for 14% of the 228,000 cases and less than 1% of the deaths — a total of nine.
A study of school closures and infections in China found that children have about three times as many close contacts in an average day as adults, but were only one-third as likely to develop an infection. The study suggested that intensive testing that enabled schools to immediately send home infected children minimized outbreaks on campus.
Many countries like China rely on the widespread availability of a spit-test for the virus that yields results in 15 minutes. Such tests are not widely available in the US and few schools have access to them.
However, few of the schools in the US that have reopened have done careful studies on the spread of the virus. Between 30 and 50% of those infected with the virus never show clear symptoms – especially among children. That means it's difficult to figure out how far a cluster extends without testing for both screening and contact tracing.
The Navajo County health department hasn't undertaken any large-scale screening or contact tracing efforts in the schools that have reopened. As schools have opened and positive cases have popped up on "many" campuses, average daily testing numbers in the county have actually declined.
So in the absence of widespread testing and tracking, health officials have urged residents to continue to wear masks, avoid big groups and stay home if they're sick.
Supervisor Lee Jack said, "I just want to thank everybody for keeping the virus down. We just try to fight this virus."
Supervisor Jesse Thompson said, "My first urgency is to continue the CDC guidelines. We need to continue to do the best we can — especially at the polling places. This is what the county board of supervisors stands for — and what the county stands for — to get everybody out to vote and to do the responsible thing."