WHITE MOUNTAINS — The body of slain White Mountain Apache Police Officer David Wesley Kellywood came home Tuesday afternoon, Feb. 18.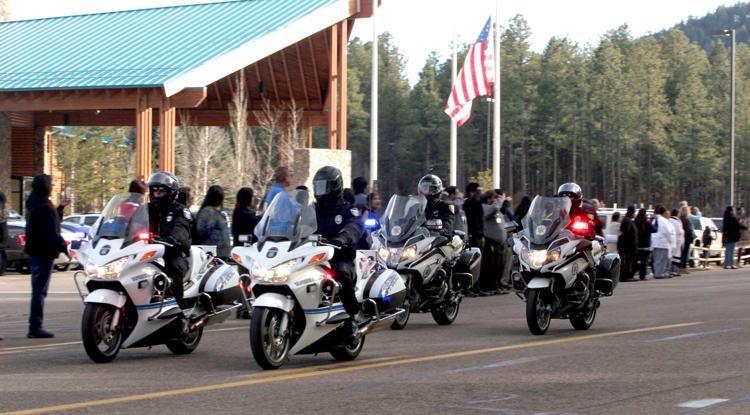 A long, long, line of police vehicles — motorcycles, squad cars and trucks escorted him across Arizona, from Tucson to Taylor, after an autopsy was completed.
Kellywood, 26, was shot and killed Monday morning, Feb. 17, around 1 a.m. by an assailant who was then killed by one of Kellywood's fellow officers.
Kellywood was one of the youngest officers on the White Mountain Apache Police force. He had served for just nine months, and graduated from the police academy last May. He leaves behind his wife, Kamellia Kellywood, and two sons, Gabriel, 5 and David Jr., 3.
"It hurts to lose someone who is a protector of his family, a protector of his community, a protector of the White Mountain Apache Tribe," Tribal Chief of Staff Jerry Gloshay Jr. solemnly said at a press conference Monday.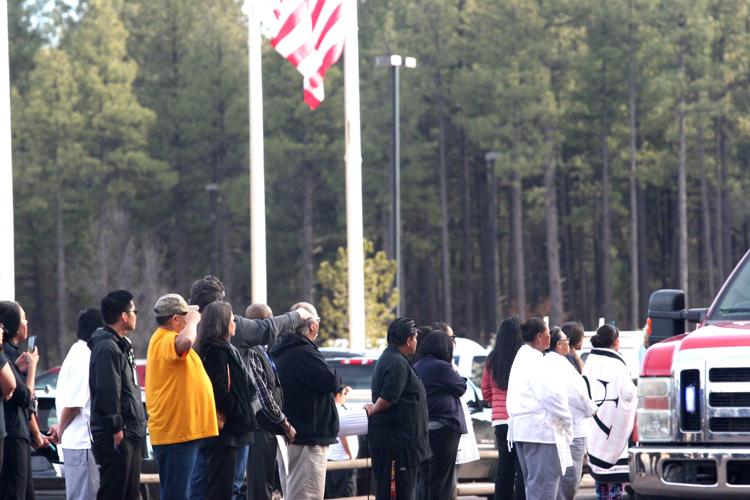 The news of his death rocked the entire White Mountain community and brought local law enforcement together to honor Kellywood and his service. Blue ribbons tied to fences, trees and signs fluttered in remembrance across Pinetop-Lakeside by Tuesday afternoon.
For many, particularly in the local law enforcement community, the loss is a blow, a painful reminder of the 2016 death of Show Low Police officer Darrin Reed, who was also killed in the line of duty.
Show Low Mayor Daryl Seymore spoke about that at this week's city council meeting.
"Sadly, Officer Kellywood's passing is a tragedy that our Show Low citizens are not unfamiliar with. It is one that will affect the lives of those living on the Apache Reservation and beyond. Officer Kellywood is a hero for protecting those who where in harms way during the tragic incident that took his life … The White Mountain Apache Tribe is blessed to have members such as Officer Kellywood who gave unselfishly and shared a sense of community."
NCSO Chief Deputy Brian Swanty said the day after Kellywood's murder that they were not releasing the name of the suspect who also died at the scene, out of respect for the Kellywood family, their immediate needs, and because they want to concentrate on his service and sacrifice.
Arizona Gov. Doug Ducey ordered flags at public buildings across the state to fly at half mast Tuesday in honor of Kellywood.
"Arizona mourns the death of Officer David Kellywood of the White Mountain Apache Police Department. This heartbreaking loss is another reminder of the danger our law enforcement officers face every day to keep others safe. Our prayers are with Officer Kellywood's wife, children and loved ones as well as the White Mountain Apache Tribe. In honor of Officer Kellywood's life and service, I am ordering flags at all state buildings be lowered to half-staff," Ducey said.
Few facts emerge at Monday's
Early Monday afternoon local law enforcement and a representative of the White Mountain Apache Tribe gathered at the Show Low Law Enforcement Center to provide information about the incident that took Kellywood's life.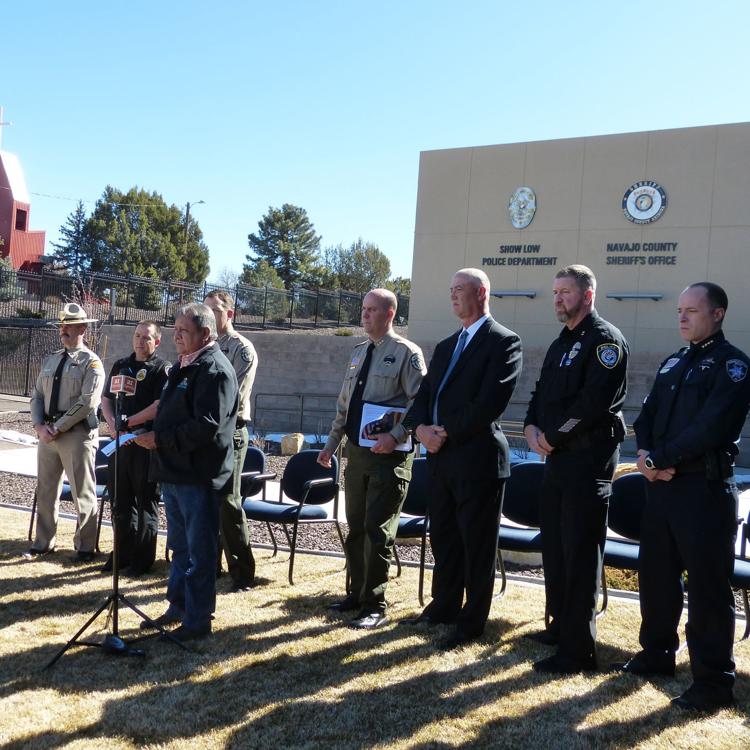 Present at the conference were Navajo County Sheriff David Clouse, Chief Deputy Brian Swanty, Jerry Gloshay Jr., chief of staff for White Mountain Apache Tribal Chairwoman Gwendena Lee-Gatewood, Supervising Special Agent Sam Davenport of the Federal Bureau of Investigation (FBI), as well as representatives of local police departments including Show Low Police Commander Jeff McNeil, Pinetop-Lakeside Police Chief Dan Barnes and Snowflake-Taylor Police Chief Bobby Martin, among others.
The men maintained their composure, but it was clear that emotions were raw.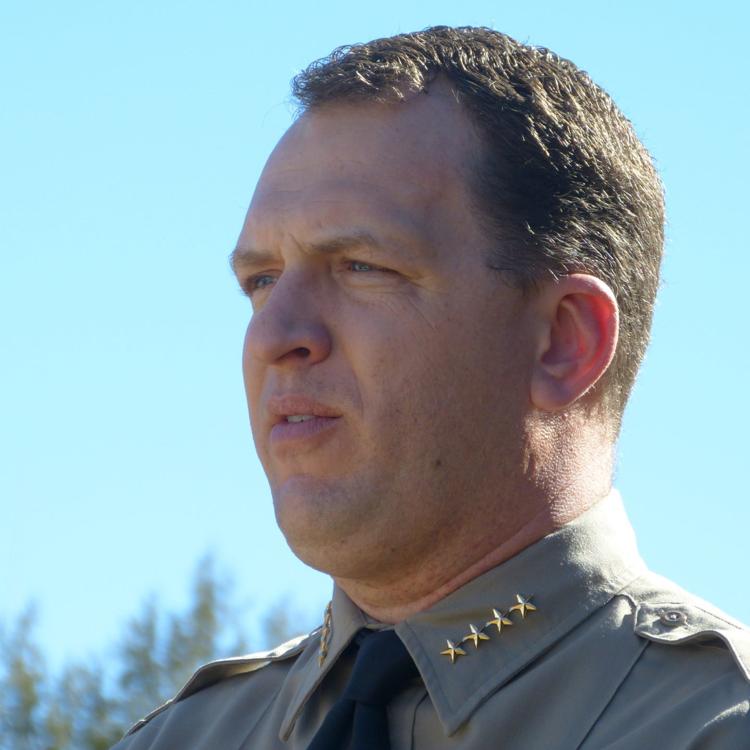 "This morning we lost a wonderful, wonderful, young man who served his community for the past year with the tribe," Clouse said. "We ask the community to be mindful of them, keep them in your prayers," he added.
Clouse also noted that Kellywood had served as a detention officer for NCSO.
Chief Deputy Brian Swanty presented a brief recounting of the incident that took Kellywood's life, based on the press release issued by the Navajo County Sheriff's Office Monday morning. NCSO is acting as a media liaison at the request of the tribe. The case is being investigated by the FBI, which handles serious crimes on Native American reservations.
According to that release, two officers from the White Mountain Apache Tribal Police responded to report of shots fired in the vicinity of of Hon-Dah Resort and Casino. It is unclear at this point if the two arrived at the scene in separate vehicles or the same car. The incident apparently occurred along the roadside of State Route 73 at the junction with State Route 260.
Kellywood encountered the suspect first.
Swanty said "that a very, very violent physical altercation took place which resulted in the officer being shot." The suspect, he then said, fled from the scene, but only got a short distance before he was overtaken by the other officer.
"He was engaged by another White Mountain Apache Tribe officer, where he was shot and killed," Swanty explained. Swanty said Wednesday that contrary to rumor, there is no indication that domestic violence was involved in the shooting.
He confirmed that there were no outstanding suspects in the case. Both Officer Kellywood and the suspect were transported to Summit Healthcare Regional Medical Center for treatment. Both died as a result of their injuries.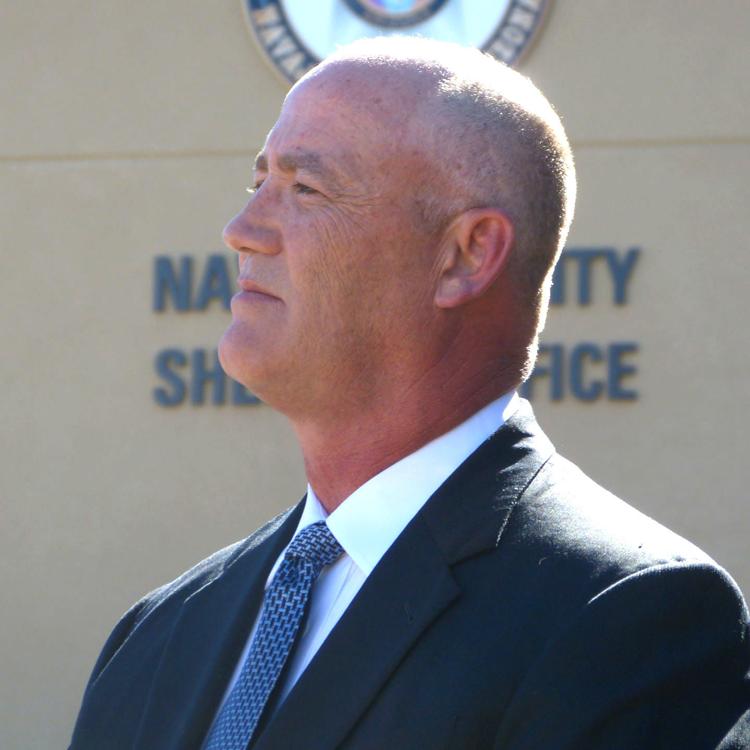 FBI Special Agent Sam Davenport answered few questions, including the most urgent — what happened that night, and why?
"I can't tell you what the exact nature of the call was … due to the fact that this is an ongoing investigation," he said.