WHITE MOUNTAINS — Newly-appointed U.S. Senator Martha McSally visited Apache and Navajo counties on Tuesday as part of her planned tour to all of Arizona's 15 counties.
"It's a great opportunity to get to communities, to talk to local leaders. I'm meeting with the mayors, I'm meeting with local business people, just to get an idea of what the priorities are for my constituents here," McSally said in a brief interview after touring the manufacturing plant at Forest Energy in Show Low.
McSally also visited the Springerville Generating Station and met Springerville Mayor Phil Hanson and Eagar Mayor Bryce Hamblin and held a brief town hall meeting held with power plant employees.
"It's just really important to be here and to see first-hand some of the dynamics going on in local communities and to hear from, for example, the mayors. We're meeting with mayors from all of our 15 counties, because mayors know. Their constituents are my constituents, and they are the closest to the people they represent and they know what the federal issues are that are impacting them," McSally explained.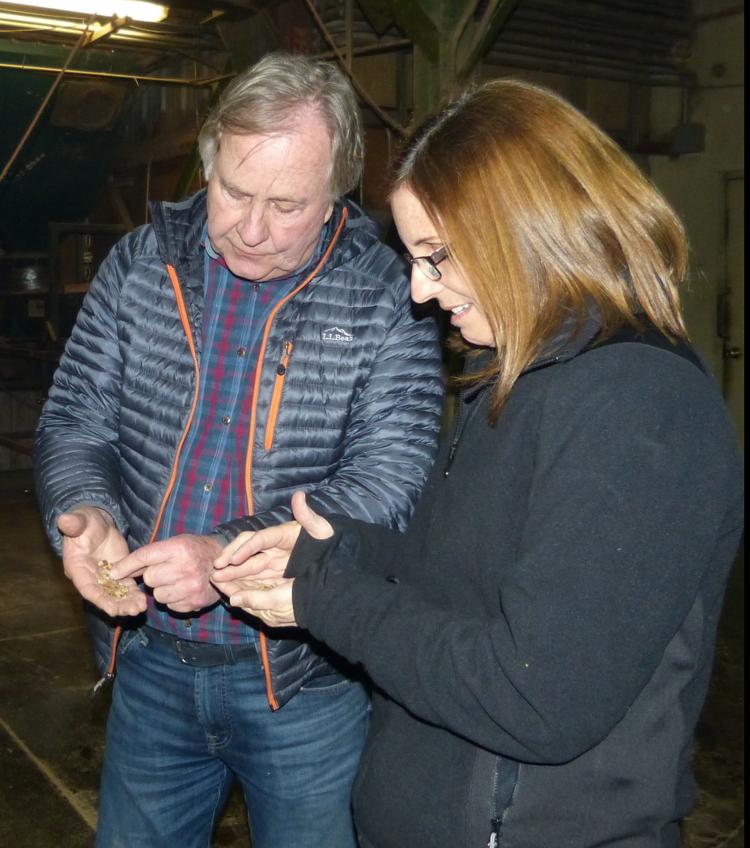 "We thought it was important as soon as possible to get out to every community, every county. I call it a two-year, one-mouth tour — like a listening tour, just to listen, to hear how we can help."
McSally is not hosting general public meetings, however.
"The primary purpose of these visits is to meet with the mayors first. But while we're in communities we're trying to go do a tour and visit a major economic driver — a place where a lot of employees are. We're peddling as fast as we can to get to to every community we can as soon as possible," she said.
McSally was appointed to the U.S. Senate seat formerly held by the late John McCain, by Governor Doug Ducey in mid-December, and will complete the remaining two years of his term. McSally, a Republican, ran in 2018 against Democrat Krysten Sinema for the senate seat formerly held by Jeff Flake, but was defeated.
Both McSally and Sinema previously served in the U.S. House of Representatives. McSally was first elected to the 2nd District seat in 2014.
During her tour of the Forest Energy plant in Show low with Curtis Rogers, project manager for Forest Energy, McSally worked to get up to speed on forest issues affecting small businesses in the area and listened intently as Rogers explained what the business faces, and local forest conditions.
"We have to fight fires, but it's far more expensive to fight fires than fund prevention," Mc Sally noted.
Rogers explained how environmentalists, a former enemy of the timber and wood products industries, have changed their views since the Rodeo-Chedeski Fire.
"Things have come full circle, after all these years, we all agree that the thing to do is thin forests," Rogers said.
Thinning forests, McSally said, "is a huge issue for Arizona."
McSally noted that steps have been taken through 4FRI — the NEPA process has cleared about a million acres for thinning and contracts for 4FRI have been extended to 20 years.
"Now it's about providing the opportunity for the private sector to come in and for them to be able to sustain and be profitable by thinning out the forest and using the by-products … as we've been talking about today," she said.
"I've also advocated for more funding for the prevention of forest fires, not just fighting forest fires. The devastation is so significant on many fronts, to people's personal property, their lives, the watershed issues, the environmental issues … management of the forests is one where we should have common ground on. And it's good stewardship of our resources, because we're going to pay to fight the fires, why don't we use the ounce of prevention and prevent the fires, it's actually cheaper to prevent them," McSally said.
"We've gotta make sure that the Forest Service, the government, is not creating a sense of uncertainty, so that the private sector can actually come in and they can bid, and invest, and they can get a good return on their investment. So we're going to continue to engage with the U.S. Forest Service and hold their feet to the fire, so to speak," she added.
McSally traveled to Globe when she departed Show Low.