HOLBROOK — After 500 years of sorrow and strife, the Navajo County Board of Supervisors welcomed the state's first "Indigenous People's Day" with heartfelt appeals to unity.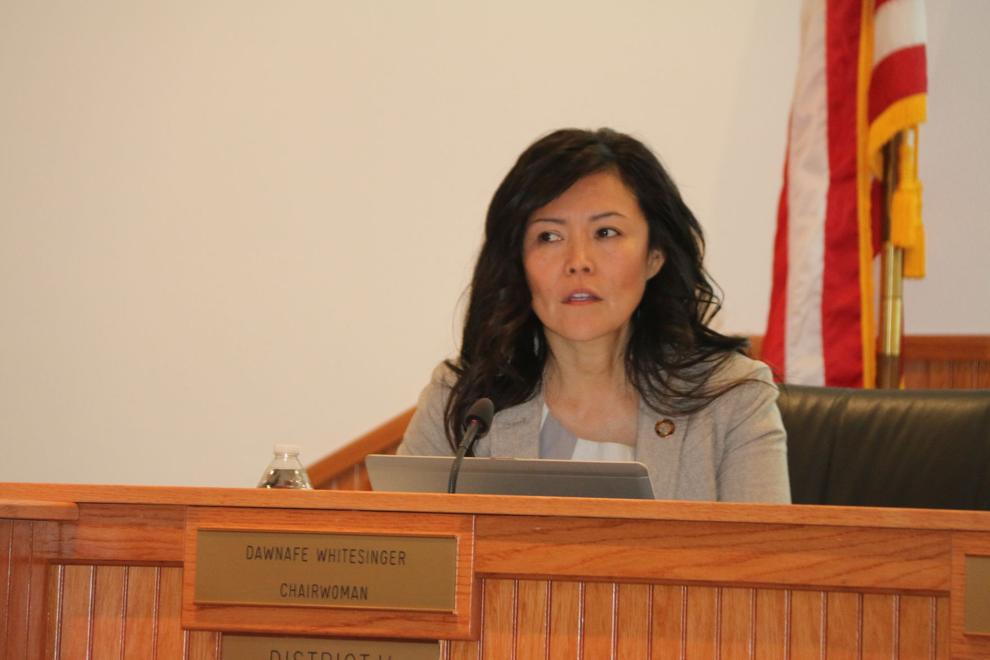 "This is a historic day," said Supervisor Dawnafe Whitesinger, a member of the White Mountain Apache Tribe, "and provides an opportunity for our troubled communities to be empowered and not marginalized as they so often are."
Arizona Republican Gov. Doug Ducey this year is to join a dozen other states in declaring the one-time Columbus Day as Indigenous People's Day, in a state with 21 federally recognized tribes.
State Sen. Jamescita Peshlakai has been pushing for the declaration for years. The daughter of famed medicine man, silversmith and educator James Peshlakai, she assumed office in 2017 in state Senate District 7. She's a Gulf War veteran who also served in the state House from 2013 to 2015.
The one-year state proclamation does not necessarily replace Columbus Day, but Peshlakai said she plans to continue to push for legislation to make the shift permanent.
Since 2015, a growing number of states have substituted a holiday celebrating Columbus' landing in the Americas in 1492 to a day recognizing the diverse cultures who have lived here for more than 10,000 years. Whitesinger's son – Dylan Baca – was among the Native American activists who lobbied the governor to make the declaration.
"I don't think that it takes away from the history of our nation," said Whitesinger. "One of the things that is important is to be reminded of why we have such a great love of our country – to be able to tell the truer story of that history is important and not to take away from those efforts that have come before. We want to recognize the efforts of everyone who has made the country what it is and everyone who has been a part of that great history."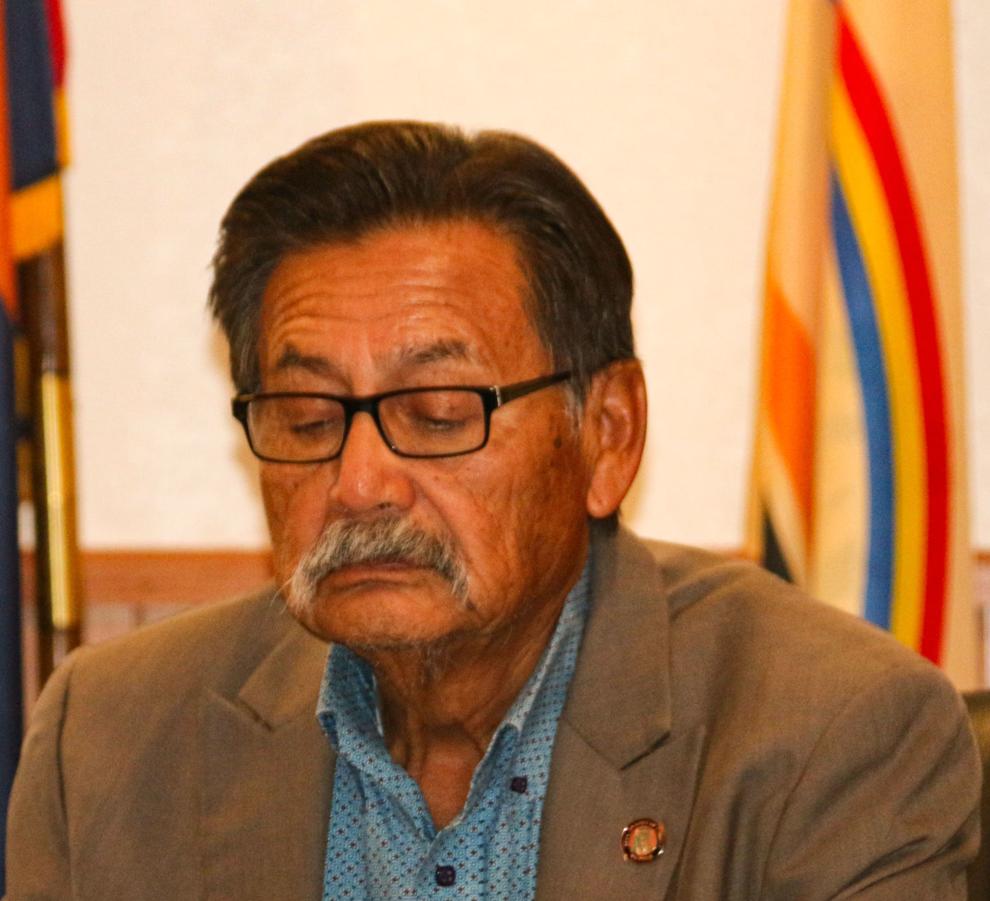 Supervisor Jesse Thompson, a member of the Navajo Nation, said, "We need to remind each other every so often that we're here together to do things to respect one another. I'm reminded of what our veterans have done for the land, the people, the government and the Constitution of the United States. I appreciate all the efforts to work together and to understand where we're coming from and how we think."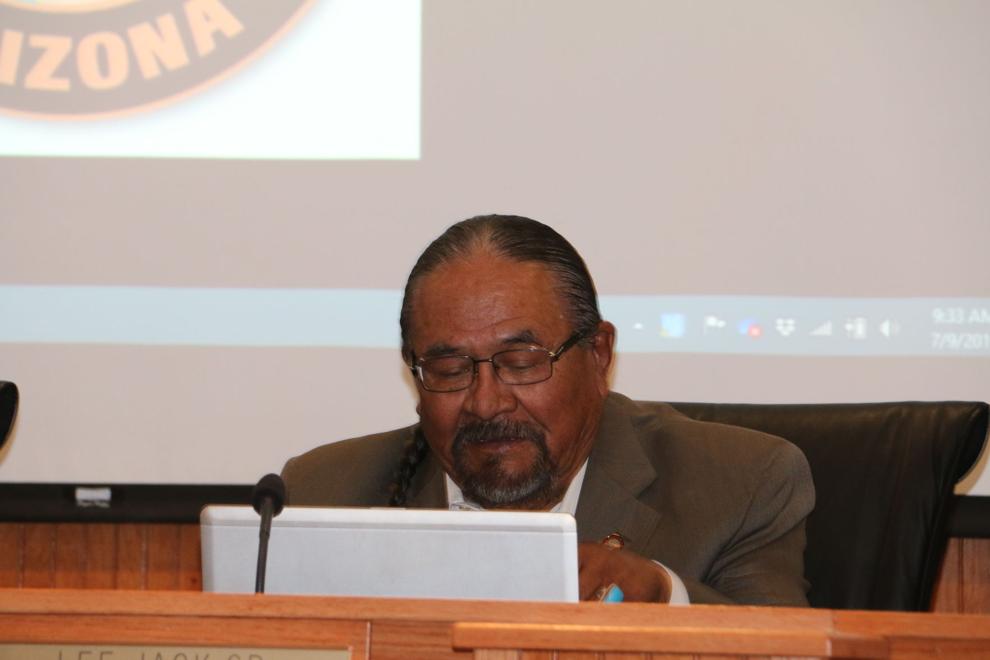 Supervisor Lee Jack, also a member of the Navajo Nation, said, "This has been a long time coming. I look forward to a future in which we will have better relations and an ability to understand one another. Right now, with the situation we're in – we're all coming together, helping each other. That's what this great nation is all about and we're all part of it and with prayers that we will live happily together."
Gov. Ducey this year added Arizona to the growing list of states celebrating Indigenous People's Day. Alaska, Hawaii, Maine, New Mexico, Oregon, South Dakota, and Vermont have officially designated the day as a holiday. Arizona, Iowa, Louisiana, Michigan, Minnesota, North Carolina, Virginia, and Wisconsin recognize the day through a proclamation.
Scientists and archeologists have increasingly revised the traditional historical view that Columbus "discovered" an almost uninhabited, wilderness continent. The seminal book 1491 by science writer Charles Mann summarizes the growing evidence that the Americas were populated by thriving, diverse cultures with roots dating back to before the last Ice Age.
These sophisticated cultures had perfected crops and agricultural techniques and contributed to globally vital crops including maize, corn, potatoes, tomatoes, tobacco, the rubber tree, vanilla and others.
However, the viruses brought ashore by the first explorers may have quickly killed 90 percent of the estimated 90 to 112 million people living in the Americas when the first Europeans arrived.
The immune systems of Europeans were shaped by the viruses that passed back and forth among humans and livestock like sheep, pigs and cattle. By contrast, Native Americans had few domesticated animals and proved tragically vulnerable to European disease like small pox, the flu, the plague and others, according to a growing body of research. By the time European settlers arrived, Native American cultures were already shattered by one of the most catastrophic succession of pandemics in human history, according to the research summarized in the book 1491. The Native Americans who died as a result may have represented 20% of the global population.
Ironically, the devastating impact of COVID-19 — a bat virus that is believed to have jumped to humans — has ripped through the Navajo and Apache reservations. Death rates have been three to five times as great as for the rest of the state's population. Doctors still aren't sure why COVID-19 has hit Native American populations so much harder, but a web of poverty, lack of medical care, limited access to clean water and pre-existing health problems have played a role.
The shift from Columbus Day to Indigenous Peoples' Day has spurred controversy. Last week in an email to constituents Rep. Paul Gosar criticized the campaign to replace Columbus Day with Indigenous Peoples' Day. His district includes Southern Gila County and much of Western Arizona. Tribal lands in the district include the Tonto Apache, Cocopah, Yuma, Maricopa, Mohave, Halchidhoma, Yavapai, Hualapai, Havasupai and Piaute.
Gosar wrote that the violence and brutality of Columbus' exploration "should NOT be glossed over. However, it need not be amplified, highlighted and underscored."
He said the clash of civilizations always produces "winners and losers."
Nonetheless, "that's not to say we can't also honor others who contributed to the fabric of our country — but in doing so, we shouldn't disown other parts of our history. Those who lead the charge to rename Columbus Day are the same flag burners who tore down our statutes this summer. Happy Columbus Day!"
The Navajo County Board of Supervisors struck a very different tone, adopting a resolution thanking Gov. Ducey for issuing his proclamation.
The Navajo County proclamation declared that the county "celebrates a positive relationship with the indigenous populations within Navajo County" and respects "heritage, cultural and economy contributions of indigenous people…We acknowledge the historic injustices suffered by Indigenous people."
Supervisor Thompson said, "I am also reminded of what Thanksgiving is all about — a handshake that to me is very sacred, to respect each other for who we are, how we think and to be able to learn from one another."