PINETOP-LAKESIDE — There may not be an official Who's Who in the White Mountains, but you can be sure if there was that Roy "Buck" Biddle would be in it.
On Easter Sunday, April 12 at approximately 10:30 a.m. the man who was the go-to guy for anybody that needed anything, slipped into the arms of angels.
Having just spent a day at the hospital the week before due to breathing and heart difficulties, which he had experienced for years, Buck quit breathing on Easter morning. The family he lived with administered CPR while waiting for the EMTs to arrive, they managed to get a pulse and transported him to the hospital.
Cindy Simonsen and her son Max, along with Mike McLain who shared their home with Buck, followed the ambulance to the hospital. Though he was unconscious, Cindy was in the room with Buck and made a number of phone calls to the family members and friends closest to him, and placed the phone to his ear so they could say their goodbyes.
He never regained consciousness.
It has been said more than once that Buck had nine lives, based on the number of intensive care unit admissions in his lifetime, he had double that number. With each emergency admittance, it was either the numerous prayers offered on his behalf or the fact that his mission was not complete that rallied him each time.
Born in Maryland in 1953, Buck joined the Navy in 1971 and traveled the country for 22 years. He married and had a daughter named Trista whom he was devoted to and called frequently no matter where his travels took him.
Buck and his wife divorced and he found his way to Arizona and met Rose Hutchison in Tempe and they were partners for 16 years. Still friends even after going separate ways, they saw each other and spoke every week. Five or six years ago on a return trip from wintering with his sister in Florida, Buck was admitted to the hospital on arrival in Phoenix. On release, it was too cold for him to return to Show Low so he stayed with Rose for three months until it warmed up.
"We were much better friends after we split," say Rose, "than when we were together. When we moved to Show Low, within two weeks Buck knew everyone there. He was always going somewhere and I would tag along and he introduced me as his wife. When people needed something, they would come to Buck and ask and he would get it done, no matter what it was. I called him Radar O'Reilly."
"I don't know how people even knew to call Buck," said Rose, "but all kinds of people would call him and he would get it done."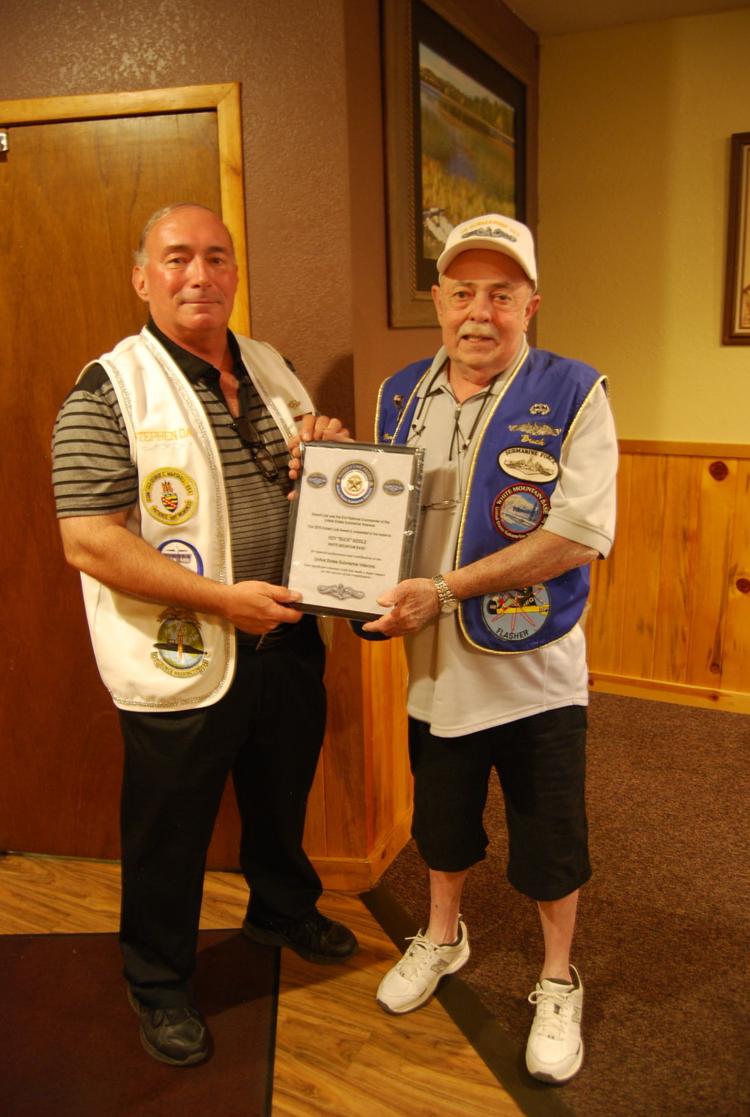 There is story after story of the countless deeds performed by Buck and his recruits. Close to his heart was the White Mountain S.A.F.E. House, White Mountain Hospice Foundation and the Submarine Vets. He raised money, sold tickets, bartered, secured, gently coerced and got whatever was needed to make a large or small event a success. He was named Citizen of the Year for the Pinetop-Lakeside Chamber, recipient of the Director's Award for the Snowflake-Taylor Chamber, and just ast November received the second highest award from the National Submarine Vets. There are also many deeds he performed with funds from his own pocket to help somebody in need.
Buck met Cindy Simonsen some years ago at a back-to-school clothes giveaway in Show Low. Cindy's church was responsible for the clothing and Buck and the Sub Vets were cooking the hot dogs. They became friends and kept in touch. Later Cindy and her son Max and friend Mike McLain bought a house together on the Mountain. On another of Buck's many hospital admissions, in order to be discharged he had to be released into someone's care. Cindy and Mike invited him into their home. And he stayed.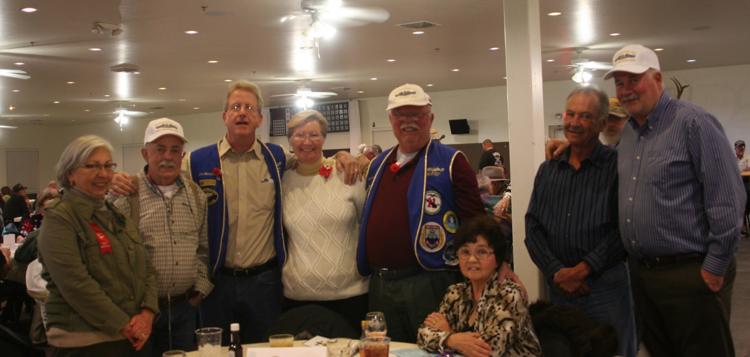 "He held court down on the patio," said Cindy. "I would look out the window and there would be these people out there with him. It used to be our house, but it became Buck's house."
"We had a smoking room enclosed for him – part of the patio; he would smoke with oxygen and the propane heater. He would say, 'It is so cold out there,' and I would say, 'And yet you still smoke.
"He could be a jerk, but he had the biggest heart. He would do anything for you."
Mike said, "Even in death he gave back because he was an organ and tissue donor."
"We were surprised," said Cindy, "that they could use anything, but they were able to use his tissue."
In 2012 Buck went to see Tim Livingston at Owens Livingston Mortuary to make and pay for his funeral arrangements. He wanted to be buried in Arlington National Cemetery. He wanted an open casket and to have a party like a chamber mixer and invite everybody to enjoy hors d'oeuvres and have an open mic where they could tell their favorite Buck stories.
"We do not know when Buck will be buried but he will be buried in Arlington. Additional preparations have been made for his daughter when she passes," explained Livingston. "It is one of the benefits for veterans with permanently dependent children."
Due to COVID-19, Livingston said Arlington is running anywhere from three weeks to three months behind. He has spoken with family members and friends regarding ideas for the party and with social distancing, it could only be accomplished with letting 10 people come in at a time and then exit. And, depending on when COVID-19 restrictions are lifted, the party may or may not take place with Buck's body present.
In the meantime Buck's body will remain at the funeral home with all funeral plans on hold.