WHITE MOUNTAINS – Tammy Gray is not a healthcare professional. She is a freelance writer and a transcriptionist living in Holbrook. Nonetheless, when she began seeing hospitals post on Facebook that they needed masks, she asked some of her nurse friends what the situation was and learned there was a real need.
Gray wanted to help. When her father was in ICU she said they took such good care of him that she could not bear the thought of those on the frontlines with COVID-19 not having the equipment or masks they needed. Her plan was to spend an afternoon or the weekend cutting and sewing masks. She did that, but that's not the end of the story – it is still being written.
An anonymous donor contributed money toward fabric. Then another donor came forward and all of a sudden, Gray had 300 yards of fabric and the urgency for masks was growing. She created the Masks for Heroes — Northern Arizona Facebook page hoping to get a little help. And, help she got. As of Sunday, March 29, there are 192 members who are searching, buying, cutting, sewing, packaging and delivering masks as fast as they can be made.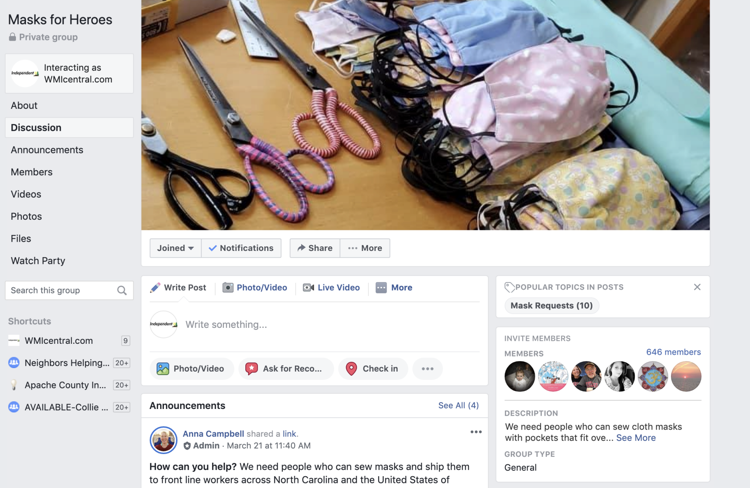 The consummate organizer, Gray laid out the ground rules at the get-go so there was no misunderstanding about why anyone joined the group – it's all about the masks – no political opinions or comments or COVID-19 news.
"We're here to get masks made as quickly as possible," Gray advised joiners, "and please do chat away, have fun, share, be kind, help each other, and show some love."
Banter began almost immediately as skill sets were identified.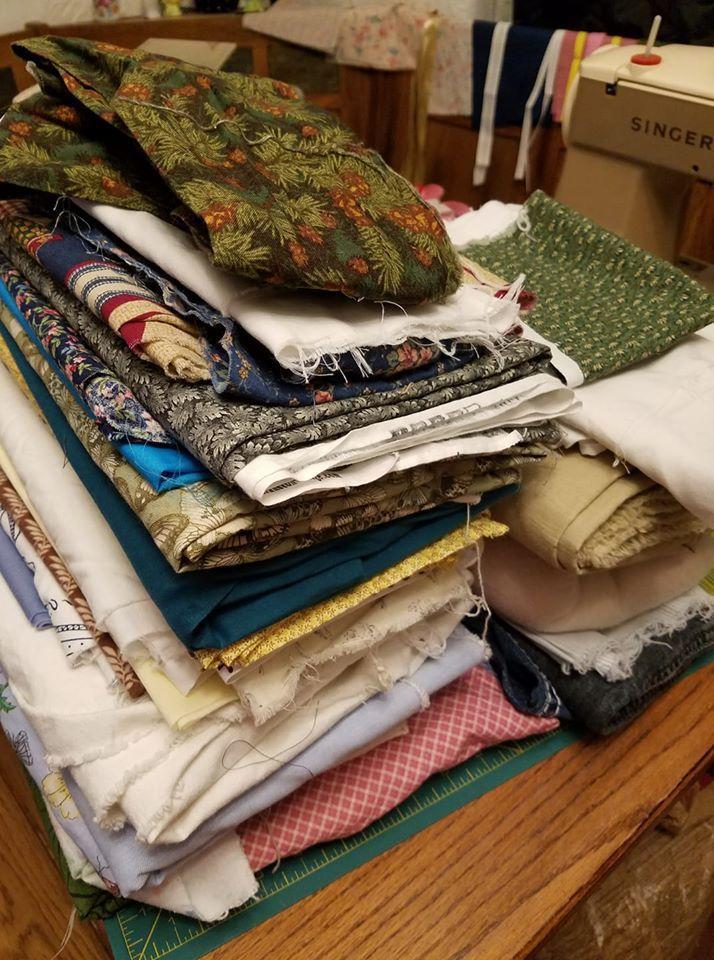 "I can't sew worth a darn, but I can help in other ways," posted Sandra Martinez Oberriter. "Let me know how I can help!"
"I have a sewing machine," posted Gretchen Madison.
"My girl scouts have set up a page to make masks. Where can I pick up supplies to distribute to my girls?" asked Victoria Montoya Philpott.
Gray saw that the project was ballooning and she reached out for help to coordinate efforts. Robin O'Dell Gonzales and Amy Aguileria joined Gray as administrators of the site and Aanda Reeves as moderator so that questions or needs could be addressed immediately.
Gray also connected with Linda Turner Cook who she called "a one-woman show." She said that Cook had already begun her own mask project using her own money and materials, but now Masks for Heroes is supporting Cook however they can because she has put out a lot of masks by herself.
Cook said, "No mask is like going naked to work for them (healthcare workers)."
"My husband and I are in at-risk groups, and we both owe a great debt to healthcare and EMS.
Just hoping to make a difference and save as many local people as I can."
In a Facebook post Summit Healthcare wrote, "We are asking our community members, who are able, to donate handmade face masks to protect our employees and patients. Please use this link (Deaconess — How to make a Face Mask – Deaconess.com) for a template. If you have any questions, contact our Marketing Coordinator at (928)537-6329."
Some of the group are utilizing other patterns which will be accepted at other healthcare facilities.
If the group encounters shortages, they all help locate what is needed, or put their creativity to work and come up with another way to accomplish the task.
"Someone asked about goal numbers," posted Gray, " and I didn't have a good answer. As of today (March 28) these are the numbers I have. Please note, they do not include all the requests, just the larger local facilities. I am distributing the masks to them the minute I get them in.
• Summit hospital in Show Low — No exact number, but they have 50 people on a shift in the emergency department. Ideally each person would have a minimum of 3 masks to be able to change them during a shift. So, that's 150 as a small starting number of what they need.
• LCMC (Little Colorado Medical Center) in Winslow is seeking 400 masks.
• Winslow Indian Healthcare is seeking 25 masks very urgently, and of course more as we can.
• Winslow Campus of Care is seeking 100 masks.
• Action Medical is asking for 60 as soon as possible."
Cook added, "I actually have been contacted by nurses in New York and Washington seeking masks to protect themselves. It's heartbreaking."
Gray reminded everyone that though "it is hard to say no, the hospitals are the front line in this fight and we need to get them to the hospitals first and foremost. Summit Hospital is our top priority right now."
Cheering the dedicated on, Gray assured them they were up to the task. "Yes, these are big numbers, but we can do it! Keep sewing and if you have any friends that sew, please invite them to join us!"
And, people are still joining. And the healthcare facilities are grateful.
Summit posted on the site saying, "Thank you all for the overwhelming response to our request. We are so lucky to be part of a community that unites and helps one another during difficult times. If you have been so kind as to make masks for our staff and patients we ask you to please drop them off in the front of the Administrative Services Building, Monday – Friday 8:00 AM — 4:30 PM, in the designated donation container."
And the group continues to sew, so much that Charlyse Miller will now keep an accounting of the masks so everybody knows how many have actually been made. 
In the meantime, the group is still sewing.
"It's a community effort," said Gray. "I couldn't do it without them."