PINETOP — One late morning in mid July a Lakeside couple who live near the Rim Road had a unexpected Sunday visitor. To their surprise, it turned out to be a one-week old, long-legged, underweight foal who repeatedly approached and retreated from their home.
The colt, who had apparently crossed a downed section of fence, was ever so cautious. Understandably so, since he appeared to have sustained serious injury to his neck.
"We didn't discover him, he discovered us," assures the couple who prefered not to give their names. "We've lived here full-time for about two years and this has never happened before," explained the homeowner.
"That morning I had heard there was an injured horse so we assumed it might have been from the barbed wire fence that separates the road from the reservation," said the resident. "I looked outside later saw a horse wandering around between our yard and our neighbor's yard. Eventually, we tried to convince him to come closer but he kept taking off, running back into the forest."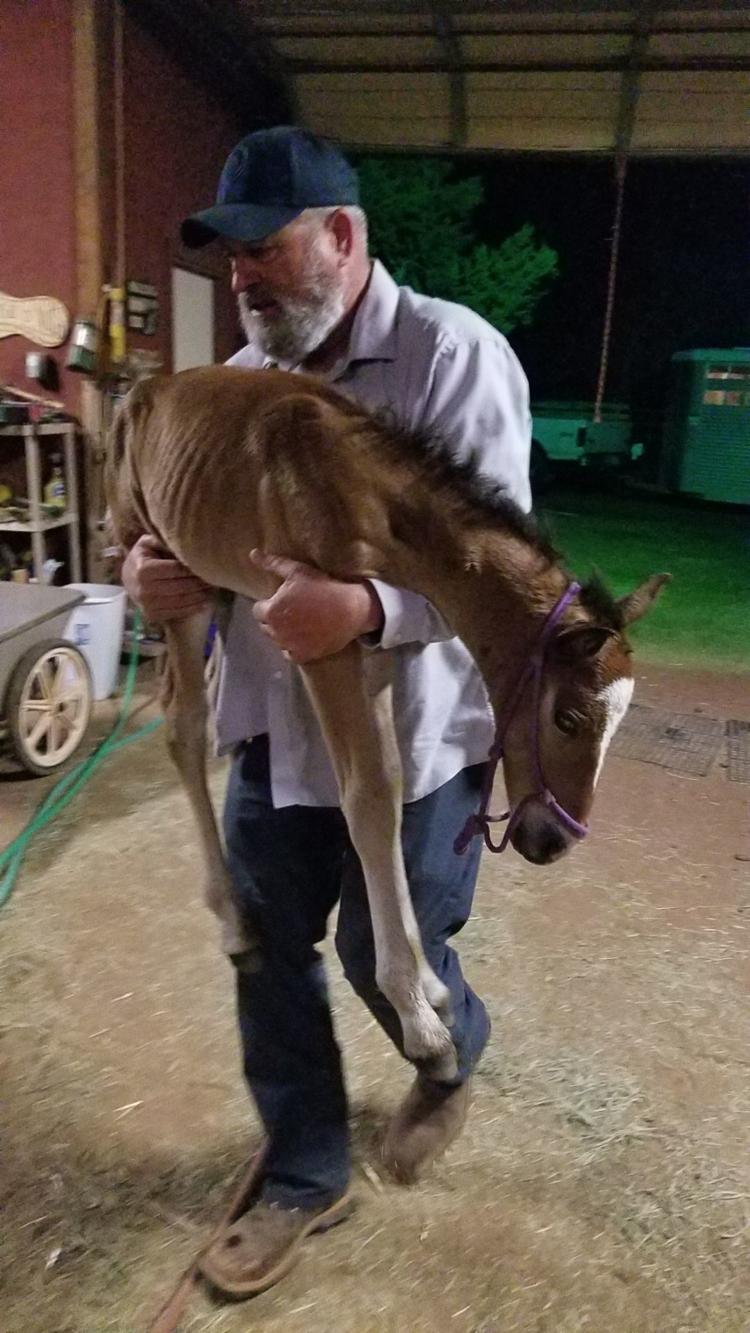 At one point, the resident says the foal came close enough to see that he "had a big slash on his neck." She also described the colt as "just skin and bones."
"My husband and I just knew he wasn't going to last another night out there, so I called my sister and asked her what I should do," she explains. "My sister and her husband came over but by that time, he was nowhere in sight. He eventually wandered back and the neighbor kids were trying to coax him with a carrot, an apple and a bowl of water but he was just too scared," she adds.
By this time it was getting to be afternoon and it was hot, according to the residents. When they next looked for the lonely colt "he was licking water off of our propane tank so we knew he was thirsty."
Sometime after that, the couple's son came over for supper. Sometime during the meal "we heard a little 'thunk thunk' and discovered the little horse trying to come up onto our porch," says the couple.
"Our son is an animal lover so he sat down on the porch for about an hour trying to get the colt to come closer," she continues. "It started to rain but our son stayed out there and started singing to the little guy. The song was about a Russian man and his horses."
The foal finally came close enough that the son was able to touch him and offer him more water. "He tried to drink and was hacking; I'm not sure he really knew how to drink like that yet," says the resident.
Eventually her son got a soft rope on the foal and gently guided him into their back yard which was fenced. The family contacted Deena Pace of the Humane Society of the White Mountains who helped them get in contact Christine Griffin of EquineWell Being, a rescue organization in Snowflake.
"Christine and her husband had just sat down that Sunday night after being out all day and they were looking at an hour drive to come get this baby horse," says the resident. "But they didn't hesitate and we found them to be the most amazing and knowledgeable people."
"Christine told us he was only about a week old and was dehydrated," says the resident. "We never saw the herd and thought the deep scratches and wounds on his neck were from a cougar." They had no way of knowing for sure but understood that there didn't seem to be a way to reunite him with his herd and assumed that whatever may have attacked the foal must have scared off the other horses.
"This little guy coming to people he knew were going to get him help was a God thing," says the couple. "We don't know anything about horses; we've never owned one but we could surely see he was in bad shape."
The couple says they are so relieved the foal is going to be taken care of but they understand that EquineWell Being would have quite the job on their hands with feeding and caring for the foal who still relied on milk from his mother.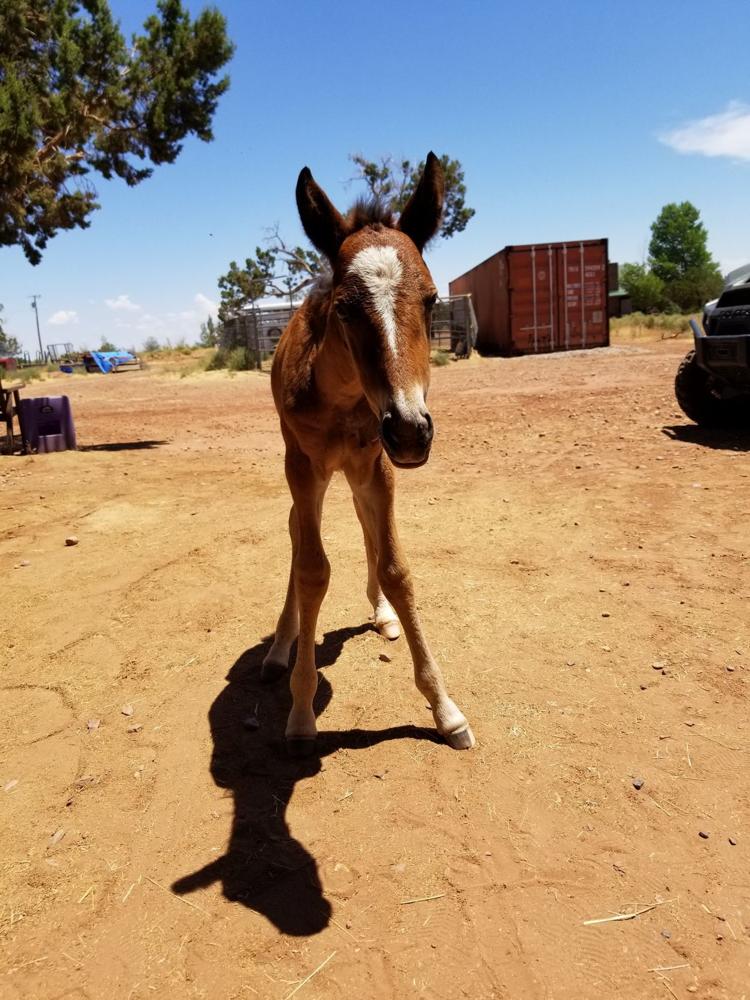 EquineWell Being has been caring for the foal that has been deemed "Rimson" in honor of him being "a son of Rim Country." His round-the clock-care began due to his young age and reliance on replacement milk.
"He was so weak that during the surgery to clean and repair his wounds no sedative was needed, just lidocaine to numb the wounds," says Griffin. "He had a very deep wound over the jugular area of his neck and it was a miracle the cougar missed his veins and arteries. In addition to all the neck wounds, he had some scratches on his body and a very deep puncture on his right hind leg in the thigh area."
He was treated by Dr. Tammy Helzer who said, "Four weeks ago, he was a dead horse laying … that's how close to death he was."
The veterinarian confirmed that his injuries indicate he was attacked by a cougar and "miraculously got away." Rimson required surgery to repair all his wounds, intravenous fluids to treat his dehydration and frequent check ups.
On August 5, Rimson weighed in at 102 pounds, according to Griffin. This is a gain of over 50 pounds and he's is not 36 inches (9 hands tall).
"His neck is healing and his right hind leg is doing better," confirms Griffin. "We will do follow up blood-work in a month, continue his physical therapy and massage therapy and we have his milk schedule down to four times a day and as he eats more solid foods, we can reduce that too."
"He is still too small to be with other horses, but he is next to them and they visit him throughout the day. His mood is really good and he is acting more like a normal foal."
Rimson has been running and jumping, playing and learning to walk on a lead rope, all because of his rescue and the dedicated work of Equine WellBeing Rescue Inc.
For the first time ever, the public is invited to visit EquineWell Being Inc. on Saturday, August 31 from 10 a.m. to 2 p.m. for a fundraising event at the private equine rescue ranch in Snowflake. To find out how to meet Rimson and his friends, visit their website https://www.equinewellbeing.org or their Facebook page at Equine WellBeing Rescue Inc.