WHITE MOUNTAINS — A monster snowstorm dumped record amounts of snow across portions of the state and double-digit inches throughout the White Mountains, closing several roadways and causing area governments to declare emergencies to free up additional resources. 
According to the National Weather Service, Pinetop-Lakeside received 32-37 inches as of 8:47 a.m. Friday morning, 28 in Heber/Overgaard, and 24 in Show Low. In Apache County, Alpine received 17.5 and Concho and Eagar 9 inches.
Apache County Supervisors declared an emergency Thursday morning. The town of Payson did so as well, after more than three feet of snow fell on the community 90 miles southwest of Show Low.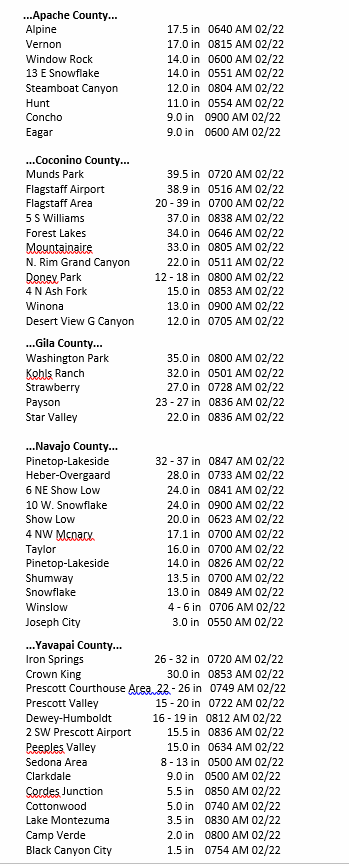 U.S. 60 between Show Low and Globe and SR 260 between Payson and Show Low has been closed at different times. The latter opened around noon Friday after being closed for some time. Click this link for current road conditions.
Road crews and snow plow operators have battled through whiteout conditions to keep roads clear, but highways and road conditions have been dangerous. Area governments have cautioned drivers to keep off roadways, if possible.
"Arizona owes a big thank you to our first responders, snow plow operators and cleanup crews who are working around the clock to clear roadways and keep motorists safe," Gov. Doug Ducey said in Friday afternoon a press release. Arizona Department of Transportation has 400 operators working 12-hour shifts on over 200 deployed snow plows, according to the governor's office.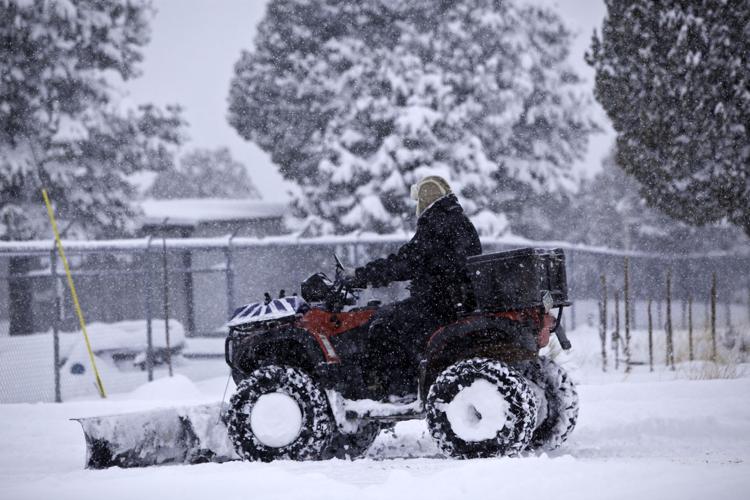 Flagstaff received over 31 inches of snow in 24 hours, a record for the city in that period of time. The state's all-time record snow depth came in Dec. 1967 when the "storm of the century" dumped 102.7 inches at Hawley Lake in the White Mountains. The Flagstaff airport reportedly had over 40 inches of accumulation at 11 a.m. today.
The American Red Cross has set up shelters at a few locations in northern Arizona to assist residents impacted by the storm: 
Pine: Fire Station No. 41, 6198 W. Hardscrabble Mesa Road.
Payson: Payson High School gymnasium, 301 S. McClane Road.
Kingman: Kingman Community Center, 3345 Harrison St. 
The forecast calls for snow to continue — with less intensity — until early tomorrow morning. Temperatures are forecasted to be some-20 degrees warmer by mid-week next week.