SHOW LOW — Authorities are seeking information from the public about a series of missing person cases involving two men and two children in three separate cases.
David and Nauhjae Williams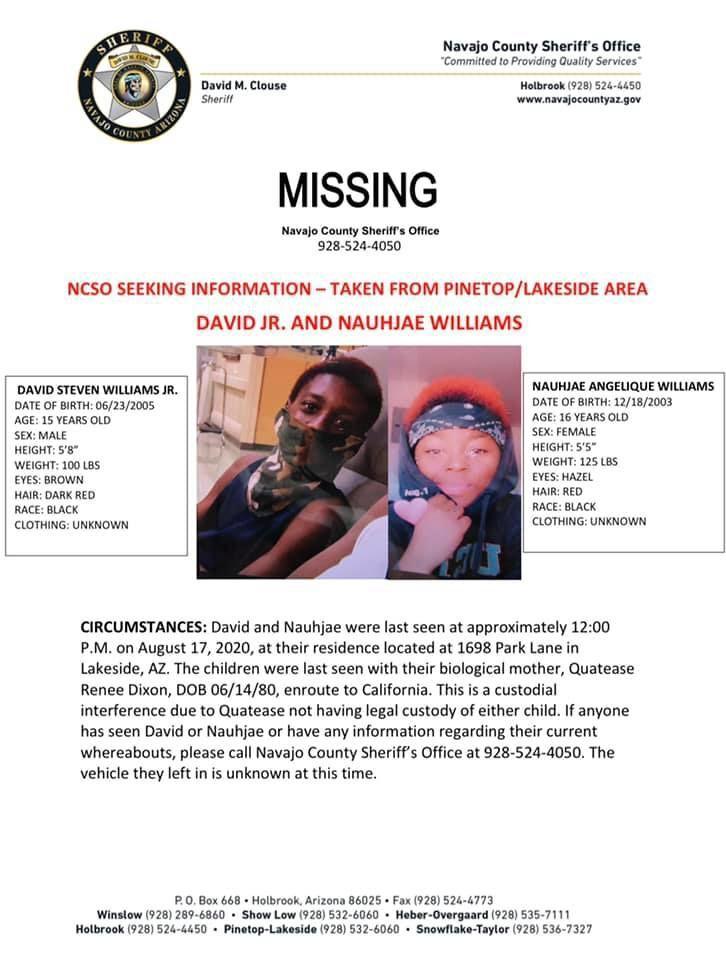 In Pinetop-Lakeside, David Steven Williams Jr., 15, and Nauhjae Angelique Williams, 16, were last seen at approximately 12 p.m. on August 17 at their Lakeside residence. According to a press release from the Navajo County Sheriff's Office, they are believed to be in the company of their biological mother, Quatease Renee Dixon, 40, who was allegedly en route to California. The type of vehicle they are believed to have left in is unknown.
The Sheriff's Office reported that the mother does not have legal custody of the children and authorities are treating the case as one of custodial interference. David is a Black male, 5'8' tall and weighs 100 pounds. Nuahjae is a Black female with hair dyed red on top, 5'5' tall and weighs 125 pounds. Anyone with information is urged to call the NCSO at (928) 524-4050.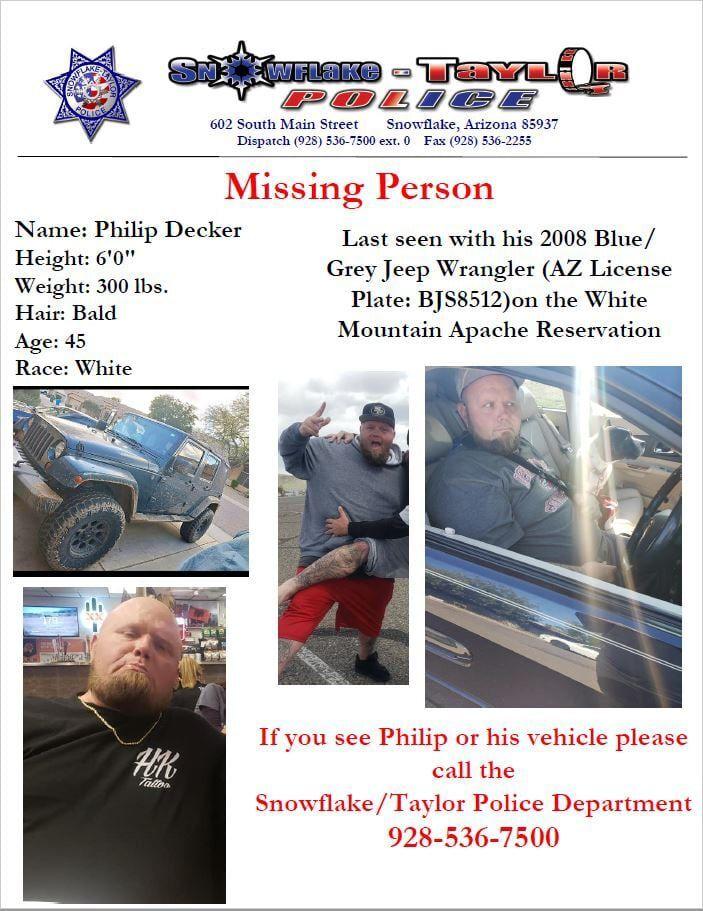 The Snowflake-Taylor Police Department seeks information about Philip Decker, 45, who was last seen on the White Mountain Apache Reservation with his blue-grey 2008 Jeep Wrangler, Arizona license plate number BJS8512, according to a bulletin from the STPD. The date he was last seen is unknown. A missing persons flier from concerned persons says that Decker was last seen "in the areas of Showlow and Taylor, Arizona." He is a white male, 6' tall, 300 pounds with blue eyes, bald head and a ginger beard. Anyone with information is urged to contact the Snowflake-Taylor Police Department at (928)-536-7500 or Cory and Sidne Young at (623)-698-8236.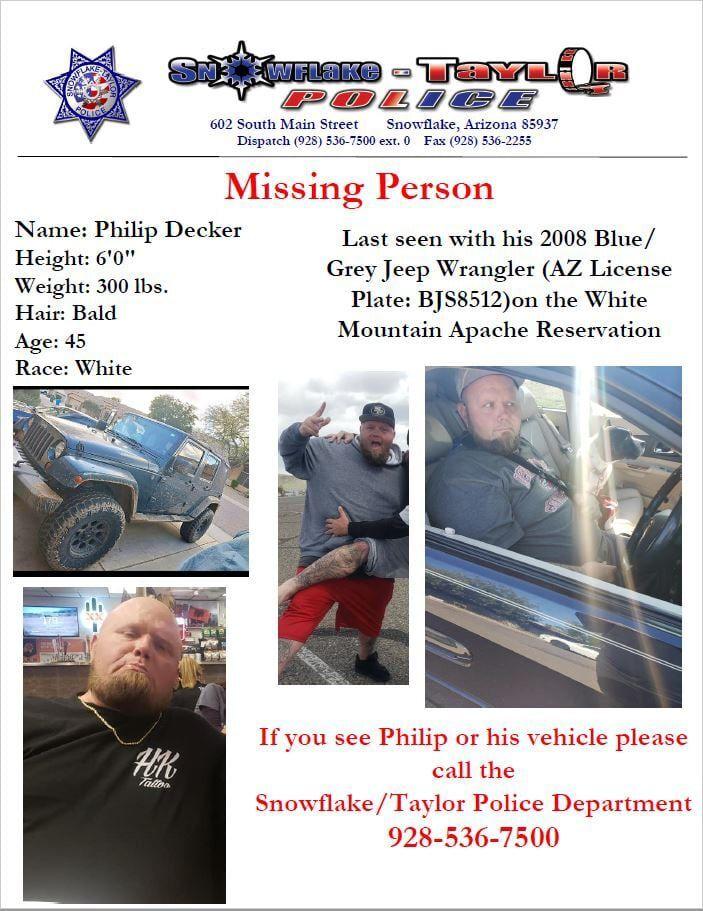 Springerville resident Beau Jordan Watnick, 40, left his home at around 10 p.m. on July 16 with about $500 in cash on him. His wife, Christina Cordova said the next day, the couple's white Ford F-150 truck was spotted by a jogger in the Wagon Wheel area of Navajo County, but apparently thinking nothing of it, the jogger didn't report it. Cordova said that the same jogger noticed the truck still there the next day and called the police.
Navajo County Sheriff's deputies responded and found the truck parked in an out-of-the-way area along the fence line of the White Mountain Apache Tribe boundary. Its windows were down and the keys to the truck were on the seat. The area, Cordova said, looks like it is a party spot judging by the type of debris around. Navajo County Sheriff's Office ended up turning the case over to the Springerville Police Department because Watnick lived in that town.
Authorities conducted a search of about 100 square miles and found a single shoe near the area the truck was found in. Cordova identified the shoe, a slip-on type of men's footwear, as belonging to her husband, Watnick. Searchers found no other sign of him. Strangely, a second set of keys were found near the truck and had attached to them various loyalty cards or quick-pay type devices. Cordova said the keys do not belong to the truck and does not know if authorities have researched to whom those loyalty cards belong.
Cordova said the whole ordeal has been "terrible." Watnick is from California, she said, and moved to the Mountain in 2015, so she doesn't believe that he knows the area very well.
With the investigation seeming to go nowhere Cordova consulted a woman, a "medium" in Payson. The medium asked for a picture of Watnick and told Cordova that she sensed that Watnick had "met bad people who took something from him." Cordova then went to the scene of where the truck had been found, took pictures and sent them to the medium for a second consultation. That's when the psychic said that she believes that Watnick is deceased, that he was hurt by others who dropped him over a cliff or bluff.
Cordova has since gotten the truck back. She is very curious about a red and white older model Suburban that was seen in the area of the truck and urges anyone with information about the Suburban or about anything else regarding this strange case to contact authorities.
Watnick is a white male, 5'10" tall and weighs 170 pounds. He has brown hair and hazel eyes. The Springerville police can be reached at (928) 333-4240; the NCS0 at (928) 524-4040.