PINETOP-LAKESIDE – In an effort to get ahead of the implementation of Prop 207 Recreational Marijuana, approved by voters statewide in the General Election on Nov. 3, Community Development Director Cody Blake asked planning and zoning commissioners on Nov. 12 to consider a ban for the sale and testing of marijuana or its use on any open space or public lands within the town. Following a public hearing, commissioners approved the ban in a 3-2 vote.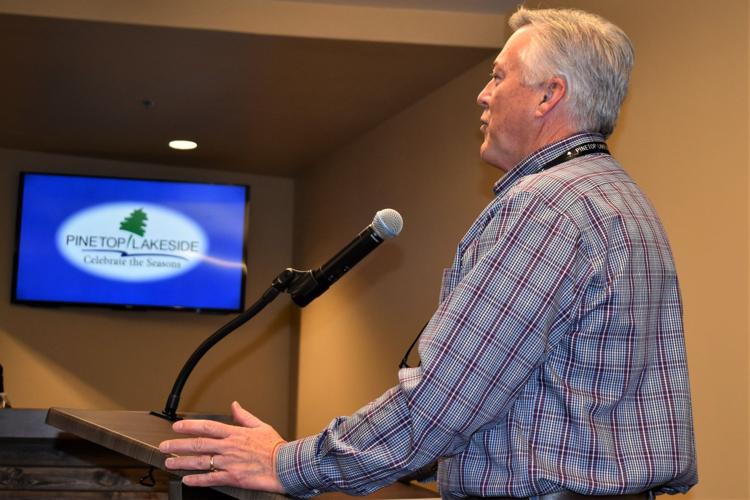 The passage of the Prop 207 ballot initiative legalizes the possession and use of marijuana for persons who are at least 21 years old, enacts a tax on marijuana sales, and require the state Department of Health and Human Services to develop rules to regulate marijuana businesses.
Although the new state law for recreational marijuana will not go into effect until Dec. 1, Blake told commissioners that the town can currently establish land use laws regarding marijuana's recreational use.
"The State of Arizona only has a limited number of licenses to give out for recreational marijuana establishments," said Blake. "There are only like 24 or 26 in the state. The likelihood is small, but say medical marijuana does come to the town, they can apply for dual license and we cannot stop them."
Chairman Adam Staley and Commissioner Alison Stewart were not present for the hearing. Vice Chairman John Salskov led the discussion among the commissioners acting somewhat as a devil's advocate relating to the 3% financial gain the town would receive should a retail establishment be granted license.
"That could be a fair amount," said Salskov. "I do not see the point of the town not having an establishment because it is a short drive to Show Low and they will be getting all of the tax revenue and not the town. Do we give Show Low the dollars? It really is a question of morals versus income. They will just buy it in Show Low or someplace else and drive it back. Three, four or five million is big revenue and people are still going to get it."
Commissioner Richard Smith argued there would likely be a cost to the town due to the additional burden on the police department due to the problems it would bring with it.
Blake said that the chief is in full support of banning it from the town and believes it could have a negative impact.
Town Manager Keith Johnson addressed the commissioners saying that the current impact is that it is illegal in the town and the monthly police department reports include a lot of illegal drug use with driving and domestic violence issues.
"When this law goes into effect a lot more people will use it, and there will be a lot more use in town," said Johnson. "The council is weighing in if collecting the extra tax money would be worth it or not.
Staff has also talked about the extra tax funds going towards funding a new police department building or for anti-drug use through Nexus Coalition."
Salskov stated his decision would be to make it legal in town, tax it and use the revenue for the police department.
"The impact is going to happen here because it is legal," said Salskov. "You cannot smoke (it) in a public place, but it will still be bought and used at home."
Commissioner Richard Smith said he does not see a downside to enacting the ordinance other than possible loss of tax revenue, but said he does see a lot of problems by not enacting it, based on information he has received from law enforcement in other states.
"I am not concerned with what Show Low does," said Smith, "but am more concerned with what the Town of Pinetop-Lakeside does."
Commissioner David Orris inquired as to why as a zoning commission they cannot just ban a double license from a zoning standpoint.
Blake said the town attorney told them they are not allowed to do this because state law allows a medical marijuana dispensary to also apply for a recreational marijuana license.
Salskov, responded that the ordinance will only keep a retail facility from opening in the town limits.
Commissioner Tim Williams inquired as to the wording in the ordinance and Blake said it was derived from the Arizona League of Cities and Towns.
Smith, Agan and Orris voted in favor of recommending the ban on sale and testing and use on any open space or public lands within the town. Williams and Salskov were no votes. The recommendation for the ban will now move forward as a recommendation for approval with the town council on Thursday, Nov. 19 at 6 p.m. in council chambers.