SNOWFLAKE — Snowflake state House Rep. Walt Blackman considers Black Lives Matter akin to a terrorist organization and says George Floyd was "no saint."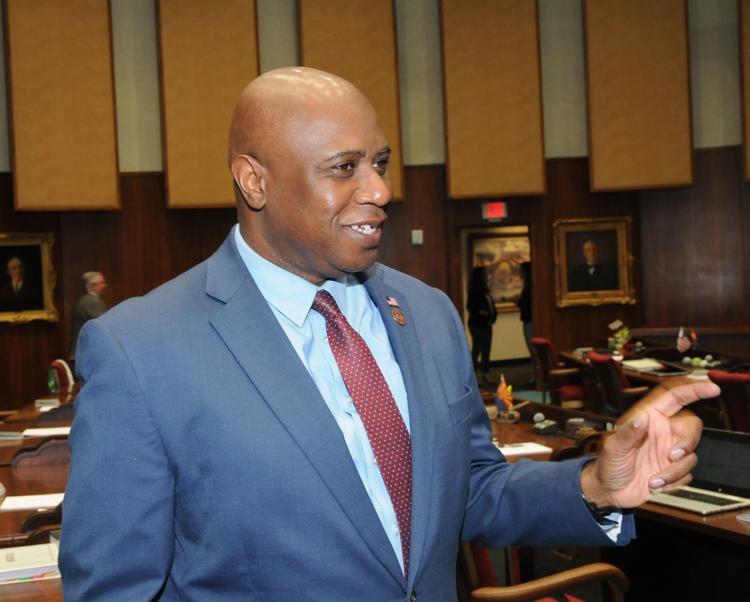 The first black Republican elected to the legislature, Blackman's comments on a radio interview and an interview with the Arizona Republic and Arizona Capitol Times drew a furious response from some Democrats and activist groups, in the midst of nationwide protests spurred by the death of Floyd at the hands of police in Minneapolis.
But the former Army sergeant seeking re-election in District 6 says the backlash against his comments "has been fantastic."
In reference to the Arizona Republic article, Blackman said "I know it was meant to be a hit piece, however, I have literally received thousands of message of support."
Some critics dismissed the remarks as "ignorant" and "divisive."
On the radio show, Blackman commented "I DO NOT support George Floyd and I refuse to see him as a martyr. But I hope his family receives justice."
He also maintained that the Black Lives Matter movement had become infiltrated by ANTIFA, which he labeled as a "terrorist" organization.
ANTIFA advocates militant opposition to fascism and white supremacy and has been sharply critical of police response to protests and demonstrations. Scholars say the group has roots going back to World War II and the resistance to the rise of fascism and re-emerged in Europe in the 70s and 80s in opposition to reawakened fascist groups. They may have several hundred members and have been involved sporadically in protests and efforts to "out" white supremacists and neo-Nazis. The group's very decentralized, with some members embracing violence as a tactic, according to Rutgers University historian Mark Bray, who wrote a book about the group.
Black Lives Matter is an international human rights movement founded in 2013 after the acquittal of George Zimmerman in the shooting death of black teenager Trayvon Martin. The group staged demonstrations in 2014 following the deaths at the hands of police of Michael Brown in Ferguson and Eric Garner in New York City. The group has continued to file lawsuits and organize demonstrations and has played a leading role in the nationwide protests the followed the death of George Floyd.
Floyd was a Minneapolis bouncer, who'd been laid off and had also reportedly survived COVID-19. Previously, he'd been in and out of trouble with the law as a result of his drug use. The coroner later reported that he had methamphetamine in his system before his death. Police received a call that a black man had passed a bogus $20 bill. When police arrived, they found Floyd sitting on his car. They questioned him and at some point handcuffed him. Police accounts have not suggested he resisted arrest. Floyd was forced onto the ground by a Minneapolis police officer with a long history of complaints for excessive force. The officer knelt on Floyd's neck with his hands in his pockets for nine minutes. Floyd repeatedly said he couldn't breathe. Three other officers kept at bay bystanders who recorded the incident pleaded with officers to let Floyd up. The officer continued to kneel on Floyd's neck for at least a minute after paramedics arrived and took Floyd's pulse beneath the officer's knee.
The officer who knelt on his neck has been charged with second degree murder and the three officers with other crimes.
The recording of the incident spurred protests nation-wide, some of which ended in rioting and violence – including a rampage through a Scottsdale shopping mall that reportedly caused millions in damage. Gov. Doug Ducey imposed an 8 p.m. curfew to curtail violence, which has now expired.
Blackman is seeking re-election to his seat in the Arizona House after serving one term.
During his radio appearance and interviews, he also criticized Arizona Superintendent of Public Instruction, Kathy Hoffman for supporting the Black Lives Matter demonstrations, likening it to "a governor writing and supporting and endorsing the KKK or an extremist right group and putting it on their letterhead."
Blacksman said George Floyd was "invested in crime" in a video he posted to Facebook.
In an interview with Capitol Times, Blackman said Black Lives Matter was an "ideology that goes against the very concepts and precepts of our principles in the United States. They started out one way and they were about helping the community and pulling themselves up. Today, they have splinter organizations that have moved away from the original message that have been infiltrated by ANTIFA."
He said the media should focus on the 58 police officers killed in the line of duty last year. "Why don't you have those numbers?" he said.
Police shot to death 1004 people in 2019, according to Statistica, based on US Justice Department numbers. That includes 370 whites and 235 blacks – with the race not reported in 202 cases. About 30 percent of the people shot by police were blacks, who comprise 12 percent of the population.
Blackman and former Rep. Brenda Barton are the only Republicans seeking the nomination for the District 6 House seat, which runs from Flagstaff to Alpine and includes all of Rim Country and the White Mountains. The career Army sergeant won election two years ago on a socially conservative platform, including staunch opposition to abortion.
Flagstaff Mayor Coral Evans, who is also black, is the sole Democrat seeking a nomination to the seat. She served two terms on the Flagstaff Council before her election as mayor in 2016.
Coconino County Supervisor and businessman Art Babbott is running as an Independent.
Blackman's remarks drew a sharp response in some quarters.
The American Friends Services Committee-Arizona had previously worked with Blackman to reform the state's criminal sentencing rules, but said it will no longer work with him. "To simply denounce Rep. Blackman's harmful statements will not heal our communities or help create change," said the group in a statement.
The American Civil Liberties Union of Arizona said it would "not affiliate with someone who does not share our values of uplifting marginalized communities and rooting out racism."
Hoffman sidestepped direct criticism. "As a public servant elected to serve all Arizonans, I am committed to continuing to work towards building understanding, empathy and policy solutions grounded in equity and inclusion. The door remains open for future meetings and conversations."
House member Kirsten Engle, now running for the Senate and an ASU law professor, tweeted in response to Blackman's remarks, "to say I am disappointed with Rep. Blackman is an understatement. I cannot understand why someone I consider an ally on criminal justice reform could be so wrong about the vital work of BLM (Black Lives Matter) demanding a stop to police brutality that is murdering Black people."
State Rep. Diego Rodriguez tweeted, "Rep. Walter Blackman's comments about BLM and Mr. George Floyd were ignorant, dangerous and divisive. I will not give them any more exposure because his words are poisonous to our community.
Arizona has the nation's fourth highest incarceration rate, with 62,000 people behind bars. The incarceration rate is 877 per 100,000 — a rate that has roughly tripled since 1980. The state's rate is 27 percent higher than the national average.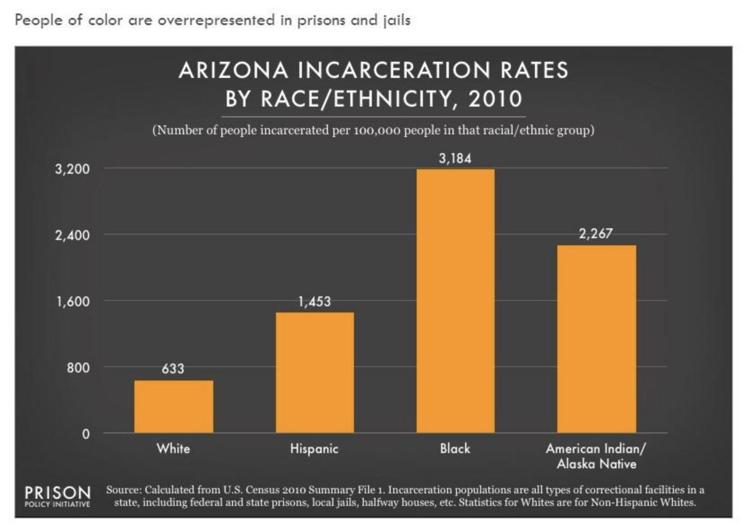 The incarceration rate for blacks in Arizona is five times higher than the rate for whites and the incarceration rate for Native Americans is about four times higher.